What Is A Newsletter Template? A newsletter template is a basic layout designed to fit your content and images in a single page. To make your campaigns effective and easy, it's important to design beautiful and eye-catching newsletters to attract your recipients' attention. Your newsletter design should not only complement your content, it should add more value to your digital media brand.
When to use newsletters?
Newsletters are the best way to reach out to your customers or potential leads by sharing important news about your company, informing them about an upcoming event or announcing a sale. This way, you are in constant touch with your contacts and convey important messages.
Why you should use newsletter templates?
Newsletter templates are used for a variety of reasons. Here are some explanations :
A massive time-saver: Coding and designing a template can consume time and energy.If you want to create a newsletter in a short period of time, choose a template and customize it with your content and images.That's it, your newsletter is ready to be sent to your recipients!
Uniformity: Your newsletter designs will be similar and consistent and your recipients will easily identify your company with your newsletter theme and logo.
A large selection of templates: A template library has endless collection of templates, all different from each other. You can filter and choose a template based on your industry and email type and color preferences.
How To Get A Newsletter Template
There are 2 different ways to get a newsletter template:
Design your own template: You can create you own template using CSS and HTML or a you can hire a professional designer to do it. Beware, it can be time consuming, expensive and it requires coding skills.
Pick a customizable template: A ready-made template can be found in various email marketing tools. With little effort, your newsletter is well prepared and completed.
If you're looking for customizable templates, Mailify offers free 890+ email templates, responsive on all types of devices.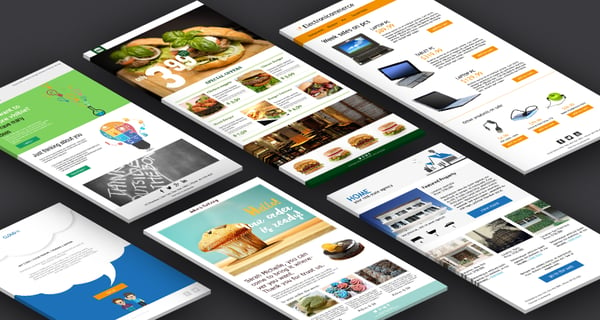 Make Responsive Newsletter Templates
Since 48% of contacts check emails on their mobiles*, it's important that your newsletters are well displayed on all devices. An optimal newsletter template ensures a good reading experience anytime, anywhere and increase your responsive rate.
To optimize your emails for mobile devices, make sure your images are sized correctly so that your contacts don't lose interest on seeing a non-optimal layout, your CTA buttons and links should be visible and well placed in your emails.
* Emailmonday "The ultimate mobile email statistics overview"(2017)
Add Video In Your Newsletter
According to 60% of marketers, including a video in your newsletter can have a huge impact on your conversion rate and purchases. Videos in email marketing are a growing trend and attract recipients' curiosity.
Recent studies have found out that having a video in a campaign can increase open rate by 19% and clickthrough rate by 65%*!
*Syndacast "Video Marketing Statistics & Trends" (2015)
Most of the time, marketers use a dummy play button image in their emails and add a link that will direct their recipients to Youtube or other web player where their video is hosted. It's the easiest way when it gets complicated and requires coding skills to embed a video into an email.
But with Viewed, it's much easier and faster to add a video in your email than you think. You don't need coding skills, it's simple and intuitive, and you're ready to get going with a superb newsletter with a autoplay video and responsive on all type of devices.