Omnisend is more than an email marketing platform, it's a powerful sales engine that easily integrates with VIEWED's unique technology to further enhance your results.

Thanks to this powerful integration you can now add videos to your emails that play when your subscribers open your email.

Are you ready to start creating high-impact email marketing campaigns with Omnisend?

Let's go!
To start creating emails with video you must have 2 things:
An account in Omnisend
A video on your browser or on YouTube
Now that you have it, the first step is to sign up for free at www.viewed.video.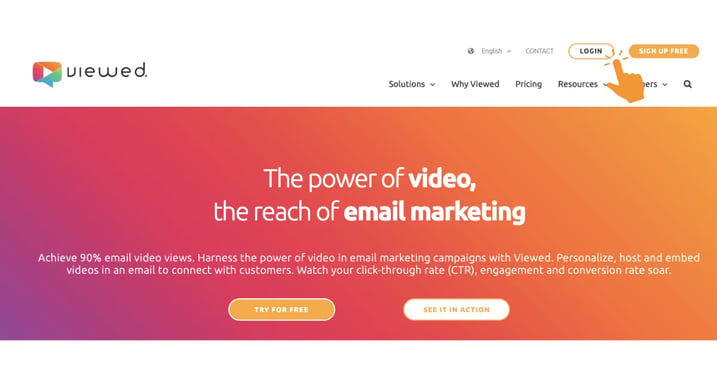 If you are an SME or freelancer and you do not have a corporate email, contact us, we will help you create one support@viewed.video.
1. Upload your video
The advantage of sending embedded videos with Viewed's technology is that your video is hosted and delivered from our highly available CDN servers, improving the deliverability of your email marketing campaigns.
Click the "Upload a video" button at the top right.
Then fill in the fields as follows.

Video name:

It's a name to identify your video in your account.
Video file:

Select your video file from your device or you can copy and paste a link from YouTube or Vimeo. The maximum allowed size is 120 Mb. with a maximum length of 32,767 seconds.
Video width:

Is the width in pixels of your video in your HTML template. W

e recommended 600.

Finally click on the green button "Upload a video" and let our platform work its magic.
Remember that now on Viewed you can record a video using your device's camera and send it by email.
2. Embed your video in your email template
When you have finished uploading your video to the Viewed platform, our adaptive technology will process it and create the necessary media formats to deliver it to your subscribers.


Learn more about how Viewed's adaptive technology works in sending videos by email.
When we finish processing your video, you will see a window with the different options to send your video by email.
Select the box with the "Omnisend logo" and your code will be automatically copied to your clipboard.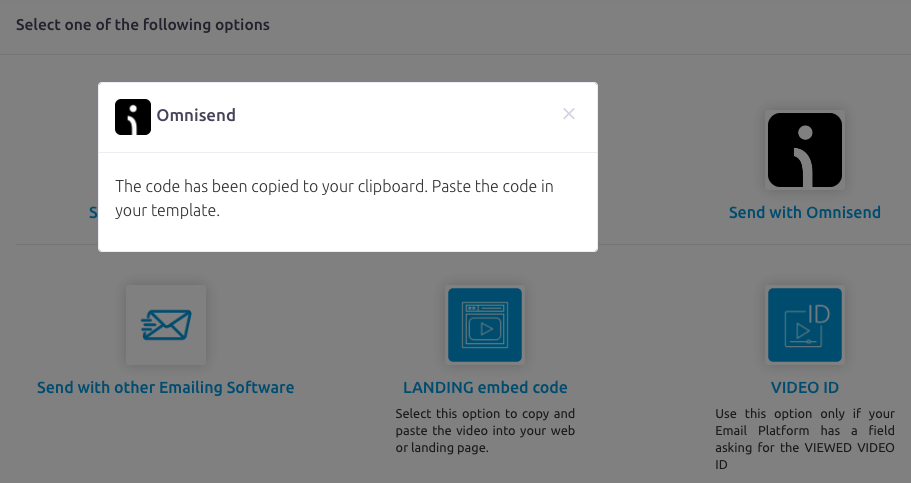 2. Go to Omnisend
It's time to send your email marketing campaign through Omnisend.
Once you have copied the code go to your Omnisend account and open the email temple where you want to embed the video.
Add an HTML block in it.


Then paste the HTML code that you've copied from Viewed into the HTML block.
Now you can send your video email marketing campaign to your entire list of subscribers.
Improve the results of your email campaign with personalized videos at scale
Did you know that it is possible to create a personalized video for each of your subscribers in an automated way? Add personal details such as your customer's name with customizable images, voice-over and text, making each email you send unique and valuable to your target customers.
Personalized customer videos give a massive boost to your video in email marketing campaign, increase your conversions up to 3 X.
If you want to know how to include personalized videos in your email marketing campaigns, contact our sales team right now.