Deciding where to invest your marketing budget is not an easy decision.
Email marketing is one of the most cost-effective solutions for businesses of all sizes to reach their ideal audience.
Despite what you may have read, email marketing is still a highly effective tool to promote your business and maintain a close connection with your customers.
Discover how you can use email marketing to grow your business and check out some awesome email marketing examples to inspire your next campaign. Keep reading!
Why Email Marketing is Important for Your Business:
Email marketing is a powerful tool that can help any business improve its relationship with potential customers. It allows you to reach your target audience directly in their inbox, without having to rely on social media algorithms that sometimes limit your reach.
Not only does it help you stay in touch with those who want to hear from you - keeping you top of mind - but it also allows you to educate your subscribers, drive traffic to your website, conduct surveys, share updates, make special announcements, and more.
One of the biggest advantages of email marketing is its ability to generate a high return on investment (ROI). According to a survey by the Direct Marketing Association (DMA), the average ROI for email marketing is $42 for every $1 invested. This means that if done right, email marketing can be a very cost-effective way to increase sales and grow your business.
What makes a good email marketing campaign?

But doing email marketing is not just about sending emails to a list of contacts and that's it. You need your campaigns to align with what your audience expects to find and connect with them to encourage them to take action.

Here are some of the factors that make an email marketing campaign work:

Clear objectives - Your emails should be aligned with the rest of your marketing strategy. You should have clear, measurable, and achievable objectives that you want to achieve with your email marketing campaigns, as well as the KPIs you will use to measure their performance and optimize them if necessary.

List segmentation - If you segment your subscriber list correctly, you can send personalized emails to specific groups of recipients based on their interests, behaviors, and needs. This can significantly increase the effectiveness of your email marketing campaigns and make users feel more connected and engaged with your brand.

Email design - Make sure the email looks professional and consistent with your brand identity. Use attractive images, a clean and clear design, and colors that are consistent with your company's image. You should also make sure that the email template you used is adaptable to any device so that recipients can easily read it no matter where they are.

Call to action - The user should not just read the information you have sent, they have to take action. You need recipients to engage with your content, whether by clicking on a link, filling out a form, or buying a product. Make sure your call to action is easy to find and that it is clear and specific about what you want recipients to do.

Timing - You don't want to send your emails at night or at times when your recipients are busy with other activities. Try to find the right time when your subscribers are most likely to open and read your emails. The best way to find the perfect timing is to do A/B testing with your campaigns.
11 great examples of email marketing campaigns
Here are some real examples of email marketing campaigns that are perfect to use as inspiration when creating and sending your own emails.
1. Video in email
Let's start with video in email, a new trend that is gaining more and more momentum among fashion, travel, and hospitality brands. Including dynamic content that plays within the email as soon as the user opens it can be the best option to grab the recipient's attention and persuade them to visit a website or buy an item.
2. Example of an abandoned cart email - Nike

Abandoned cart emails are one of the best email marketing campaigns to implement if you have an ecommerce business. This example from Nike includes a clear call to action and short testimonials from other customers to reinforce the purchase decision.
3. New Year's email to Saas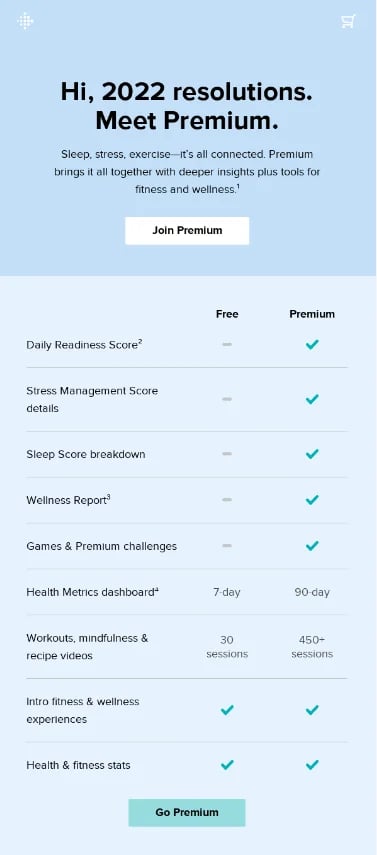 Another good example (and a good idea to incorporate in your business) is the new year or new resolutions email. In this case you can see how a software company takes advantage of the moment to promote their premium plans.
4.
Example of discount for former customers - Bershka

Another email marketing action to increase sales in e-commerce can be to follow up with buyers who have not made a purchase or visited your website in a while. Bershka does this in this example by including a discount code that encourages conversion.
5. Product Alert - Myprotein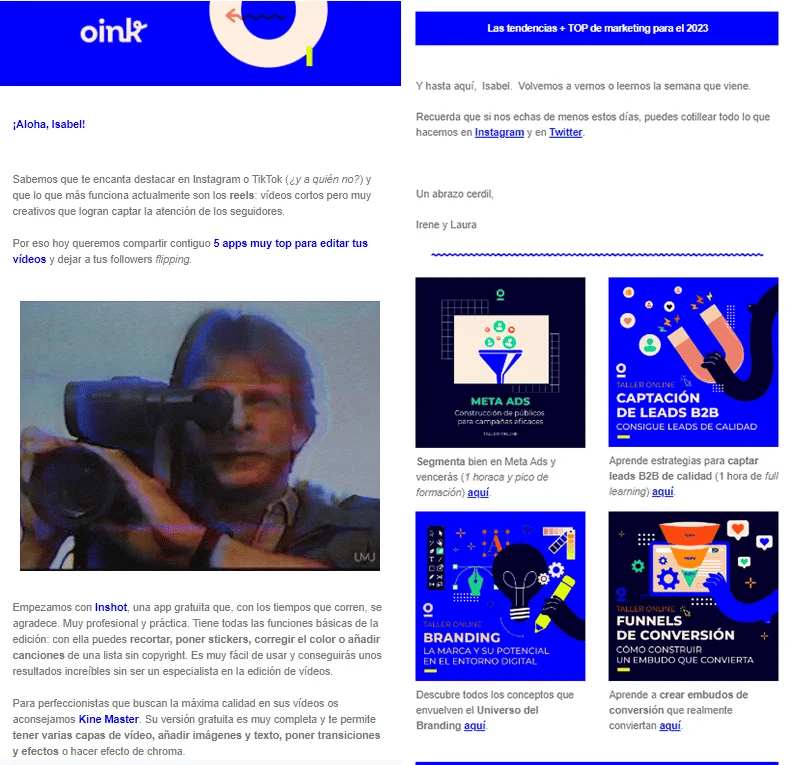 You don't have to make your life complicated to send email marketing campaigns frequently to your audience. Myprotein takes advantage of this email to remind subscribers that something special is launching on Telegram.
5. Product Alert - Myprotein

You don't have to complicate your life to send frequent email marketing campaigns to your audience. Myprotein uses this email to remind you that they are going to launch something special on Telegram.
6.
Product Collection - Shein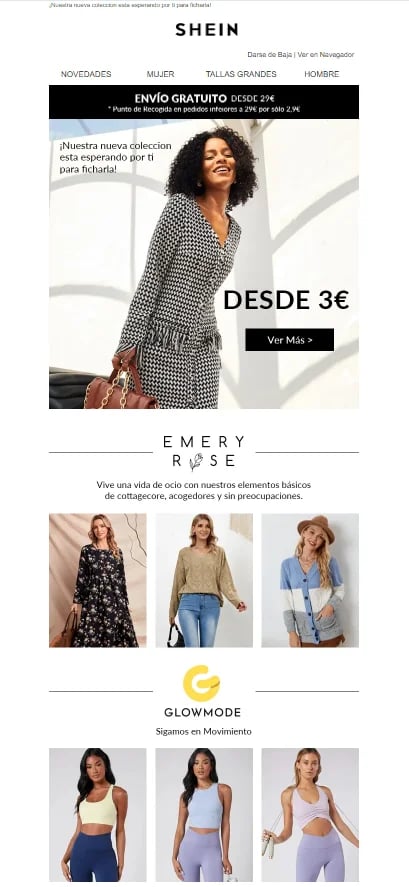 If you have an ecommerce and you have just launched a new collection of products or want to reinforce the visibility of certain products or services, this email from Shein can serve as inspiration. Visual, simple and well-structured.
7.
Example of personalized email - Melia Hotels

Personalization in email marketing goes beyond just including the name of your contacts in the email. In this case, Melia sends a personalized video within the email to users who have attempted to make a reservation but have not been successful. This is only possible thanks to Viewed, which allows for the creation and embedding of personalized videos within the email in an automated way.
8. Newsletter Email - Tonal

News, product launches, events...etc. can be part of your email marketing strategy. You can use this great example from Tonal for inspiration.
9. Valentine's Day Email for Saas - MacPaw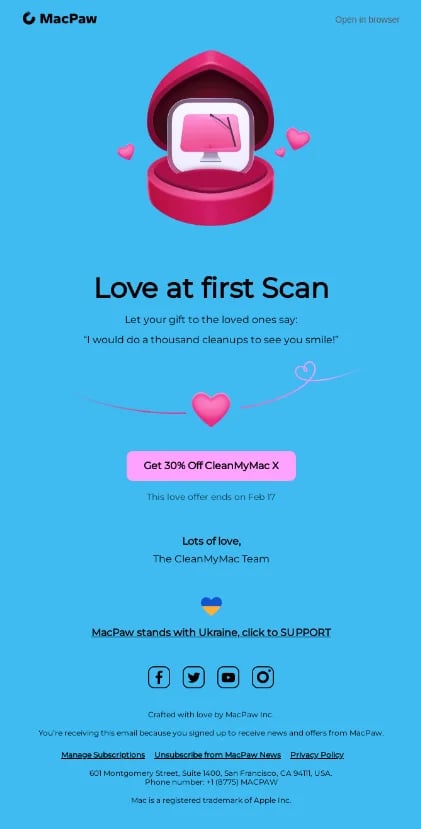 Almost all companies run email marketing campaigns for Valentine's Day, even Saas or software companies like MacPaw. Take advantage of this holiday to send something special to your email contact lists.
10. Product launch example - Miin

This example from Miin is perfect to use as a reference if you're launching a new product or want to highlight a category within your online store. It also includes a discount code to encourage subscribers to become buyers.
Now that you know how important email marketing is for your business and have seen real email marketing campaign examples that can inspire you, it's time to start leveraging your contact lists or building your first database for email marketing. To do this, you'll need to find a simple and comprehensive software like Benchmark Email. You can start with a free account today.