In this article we will explain exactly what is a video email signature, why you should be using it in your emails and how you can add it in Apple Mail.
You may not have noticed, but on this blog we love the video format, we are sure that you will love it too when you discover the great competitive advantages of using the video format.
As experts in video email marketing, we know the high conversion rate of the video due to the impact and communication power it has.
At this point you are probably thinking: Come on, man!... What difference does it make if I use a video or a photo in my email signature?, it's a small detail.
Well, let us explain why you should pay attention to every little detail: On average a person is exposed to 3,000 advertisements a day and can receive more than 90 emails a day, so with this high level of competition you need to attract the attention of your recipient.
It's time to make a lasting impact in your recipients, this can only be achieved by including an unexpected element in your email, something that will surprise them and add value to your email.
A video signature is a detail that will help you to awaken curiosity and start to cultivate love for your brand.
3 mistakes you should never make
Stop missing out on sales opportunities or conversions!
It won't do you any good to create a beautiful email signature design if your contact or company information is not presented correctly, so let's start by improving your own email signature.
The following is a list of some of the most common mistakes that can be made:
Not keeping your information up to date: if you have changed your email address, job title or telephone number, don't forget to update it in your signature, otherwise you will lose many sales opportunities.
Making a signature with an image format: most people make their email signature as a business card, making the mistake of making an image that already includes the contact details inside it, this action does not allow the information to be copied and pasted in a search engine, in an email or in the directory of a mobile phone.
Do not add links: It is very important to include links in the email signature to help your users access your website and social networks. This will also help you to generate traffic to your different digital channels.
Let's improve the presentation of your email signature!
We already know that you have taken the best photo to use it in your signature and you have even combed your hair for it, but we have news for you, photographs are a thing of the past, not for nothing, Facebook adopted, about 100 years ago, the video format as an option for the profile.
Remember that images will not help you generate the impact we talked about at the beginning of this article, because photographs are used by most sales professionals, people are already used to finding photographs in email signatures and they do not find them any different or innovative.
Add a video in your signature will help you differentiate yourself from your competitors, arouse the curiosity of your recipients, give a more innovative character to your corporate image and direct their attention to your contact details to generate more conversions.
Recommendations for your video signature
Before moving on to the guide to create your video signature, it is important that you take into account the following recommendations:
1. Make a video depending on the purpose of your email, you could generate different videos to use in different signatures according to the message you want to give, for example:
Welcome email: make a video in which you greet and welcome your audience, inviting them to immediately use your services or products, to generate your first conversion.
Launch video: use a video to generate traffic to your website when you have new launches, seasonal items or special promotions.
2. When making your video, use the autoplay + muted functions, so that the video plays automatically when the email is opened and allows the user to choose to activate the sound, so that it does not cause any discomfort as a result of the audio.
3. Always keep the identity of your brand in your signature, use the colors, logo and representative elements of your corporate image.
4. In your email signature you are the protagonist, do not include too many graphic elements, sometimes less is more.
How to add video to email signature in Apple Mail?
It is now possible to embed the video in the signature you use in Apple Mail, this is a great start given that there are over a billion Apple users in the world.
Making your video signature is quick and easy, just follow the steps below.
1. Before getting started
Create your signature using an HTML tool. We recommend having a basic HTML editor, such as Brackets, Atom, Visual Studio Code, etc. They are all free!
Make sure to leave a blank space in your code to insert the video.
2. It's time to integrate your video into your signature
Before proceeding, remember that you will need to have a PRO account with Viewed to upload the video and generate the necessary code to integrate it into your HTML signature.
If you haven't registered with us yet, you can do so Viewed.video.
Upload the video to Viewed and configure it with the necessary specifications to fit into your HTML signature.
3. Upload your video to our platform
Upload the video to Viewed and configure it with the necessary specifications to fit in your HTML signature.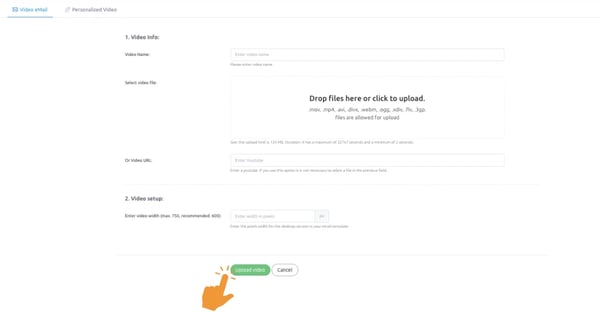 Copy the HTML code to embed it in your email signature.
4. Add the video code in your signature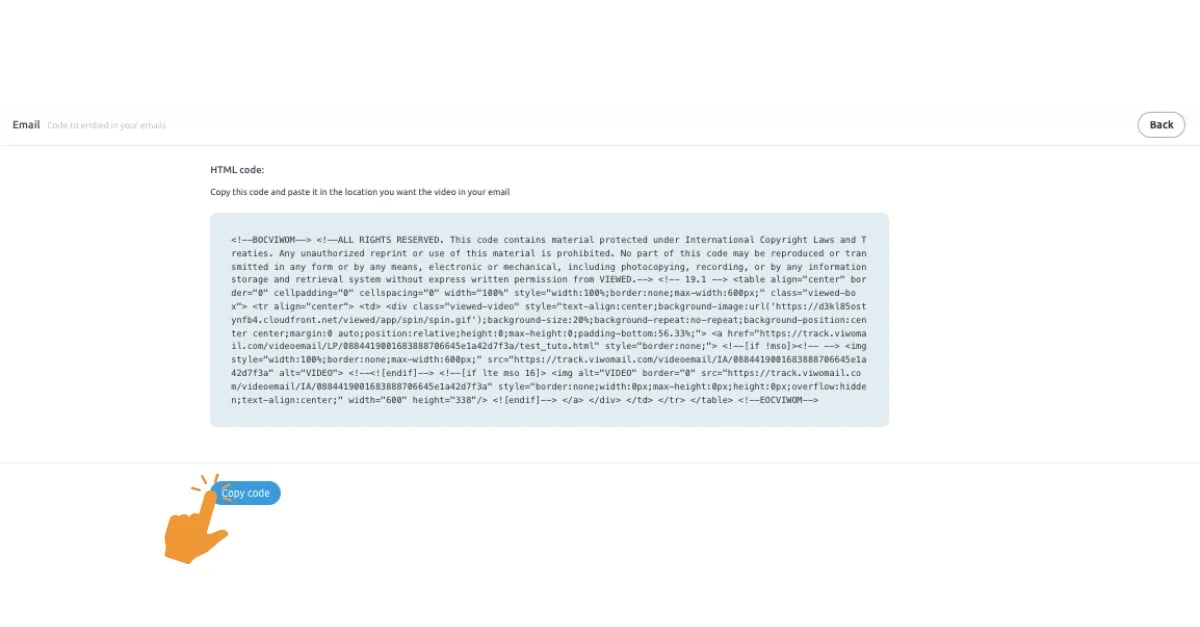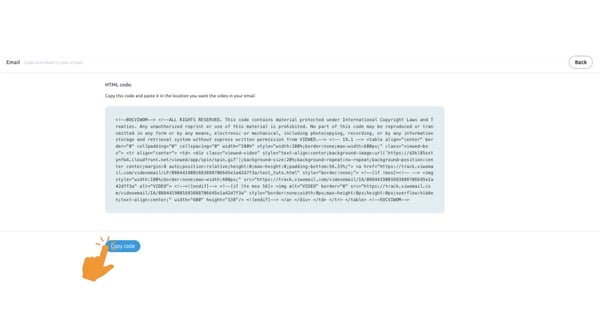 Paste the code you copied from Viewed.video, in the free space you have reserved in the HTM code of your signature and save it.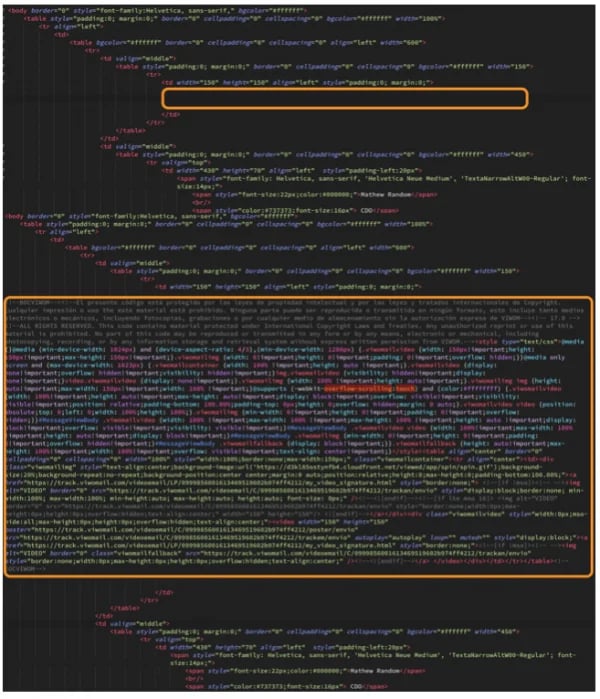 5. Create your signature in the Mail app on a Mac computer
Open the Mail app and go to Preferences, click on the SIGNATURES section.
Create a new signature associated with the email account of your choice.
Type some text in the signature you have created.
Close the Preferences window and completely close the Mail app.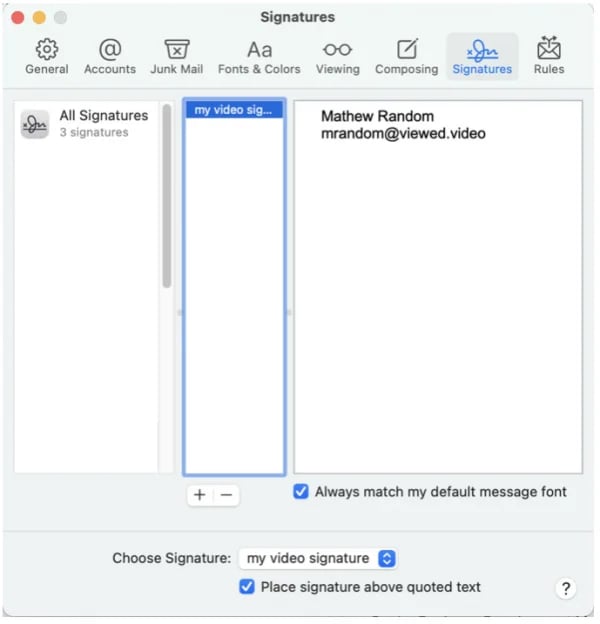 6. Insert the HTML code in the signature
First open the file we just created in the mail application. To do this, we have to go to FINDER, and in the top menu click on GO and select GO TO FOLDER..... A window will appear and we have to type the following: ~/Library/Mail/ from here you have to enter the folder V(whatever number it is).
In our case in V8 and then in /MailData/Signatures.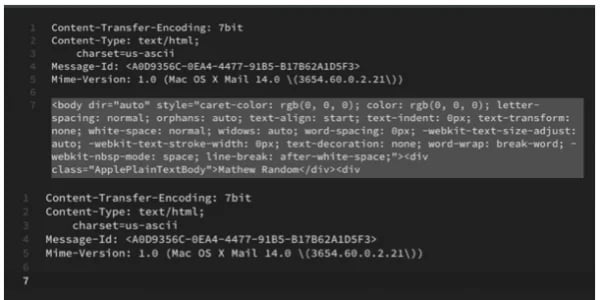 This action will take you to the folder where you have saved the signature. Normally it has a very long alphanumeric name ending in .mailsignature.
Open the signature with an HTML editor (Brackets, Atom, Visual studio code) and select all the code between the BODY tags and delete it.
Then copy all the HTML code from your email signature and paste it in the same place.
Save the changes and close the editor.
To make sure that your HTML signature file is not modified, lock the file.
Right click on the file and select GET INFO, in the window that appears select the LOCKED option.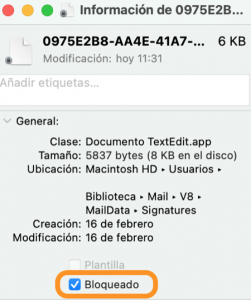 7. It's ready
Open the Mail application on your Mac computer to start using your HTML video email signature.
Don't worry if you see some marks in the video, these will not appear to the user who receives your email.
If you need to know more about Viewed we invite you to learn more about our technology at www.viewed.video.