Amidst the cold December nights when the scent of cinnamon and pine fills the air, consumers' inboxes fill up with festive messages, promotions, and good wishes. It's the Christmas season, a time when emotions run high, and people seek to share, give, and enjoy with loved ones. In this setting, email marketing becomes a powerful tool, capable of uniting businesses with their audience in a unique way. But, how can you make the most of this magical season to connect with your audience effectively? Let's find out.
Set Your Goals and Define Your Audiences
The holiday season is a magical time filled with email marketing opportunities. However, it's crucial to set clear goals and understand your audience to make the most of this festive season.

When setting your email marketing goals for the holiday season, it's essential to consider the following objectives you can achieve: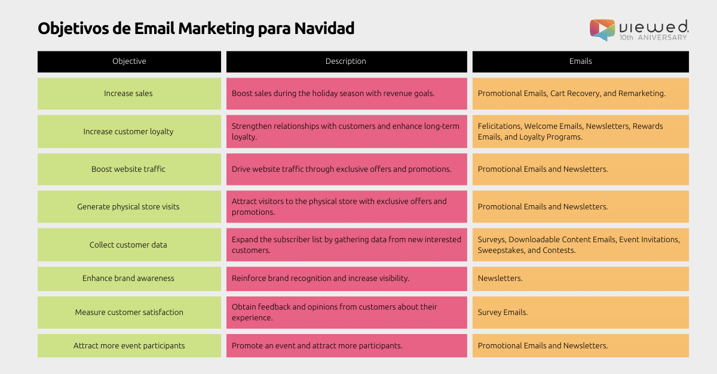 Once you have your objectives clear, effective audience segmentation is crucial for success in your holiday campaigns. To optimize your efforts, analyze past-year metrics and enhance your ideal customer profile in the following ways:
Analysis of Past Behavior: Examine your subscribers' behavior during previous holiday seasons. What products or promotions garnered the most attention? Use this data to tailor your future strategies.
Demographic Segmentation: Consider demographic characteristics such as age, gender, location, and interests. Christmas can be perceived differently across demographic groups, making proper segmentation essential.
Purchase History: Analyze your customers' buying patterns during the holiday season. What did they purchase last year? Use this information to personalize offers and recommendations.
Holiday-specific Interests: Identify your customers' specific Christmas-related interests. Some may be interested in decorations, gifts, recipes, or festive activities.
Preferred Communication Channel: Determine whether your subscribers prefer emails, text messages, or social media notifications. Make sure to communicate through their preferred channels.
Christmas Email Marketing Calendar
Effective email marketing calendar planning is essential for the success of your holiday campaigns. Here's a calendar that aligns with your objectives and the key dates of the season:
December 1 - Start of the Holiday Season:
Send a special email to welcome the holiday season and officially announce your festive promotions and offers.
Share a preview of what subscribers can expect throughout the month.
December 1-14 - Weeks of Deals:
Send promotional emails during the first two weeks of December with exclusive offers and discounts to encourage early sales.
Use video to showcase featured products and promotions attractively.
December 15-23 - Christmas Greeting Cards:
This is the perfect time to send your Christmas greeting cards. Take the opportunity to wish a Merry Christmas and convey your best wishes.
You can include a special Christmas video to create a warm and festive atmosphere.
December 26 - Boxing Day:
Announce post-Christmas offers to capitalize on continued shopper interest.
Highlight items of interest that didn't sell during Christmas.
December 26-27 - Three Kings' Days:
Prepare specific offers and promotions for Three Kings' Days when gift shopping is still in full swing.
Promote toys and products related to the Three Kings.
December 26-30 - Holiday Outlet:
Advertise a holiday outlet to clear remaining products and seize last-minute buying opportunities.
The Influence of Emotions in Christmas Email Marketing Campaigns
Emotions play a pivotal role in Christmas Email Marketing Campaigns. The holiday season evokes a wide range of feelings in people, from joy and generosity to nostalgia. Here are some ways to harness these emotions:
Emotional Narratives in Christmas Email Marketing: Create narratives in your videos that emotionally connect with your audience. You can tell heartwarming stories that emphasize Christmas values or show how your products or services can enhance your customers' Christmas celebrations.
Generating Nostalgia in Christmas Email Marketing: Christmas often evokes memories and nostalgic emotions. You can use visual elements and music that evoke the nostalgia of the holiday season in your Christmas Email Marketing campaigns, which can be especially effective in campaigns targeted at more mature audiences.
Promoting Solidarity in Christmas Email Marketing: The holiday season is an opportune time to promote solidarity and helping others. You can highlight your company's social actions, showing how you are contributing to making the world a better place at Christmas.
The Importance of Assertive Communication at Christmas
During the holiday season, when the competition to capture customers' attention intensifies, choosing assertive communication over mere effectiveness can make a difference in the success of email marketing strategies. Assertiveness becomes even more crucial during this festive period to meaningfully connect with your audience.
To better understand what we mean, let's provide an example. Effective communication is like receiving a message that's easy to understand, while in email marketing, assertive communication is akin to having a conversation where you feel like a close friend is speaking directly to you. In other words, effective communication focuses on conveying messages clearly and directly, whereas assertive communication takes into account the context and every element of the campaign to resonate more strongly in consumers' minds.
In this regard, message personalization is essential, allowing you to send information tailored to the tastes and preferences of each recipient, making them feel special and unique in their experience.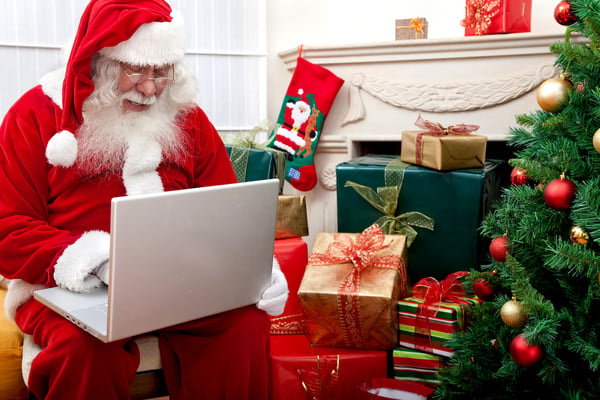 Furthermore, assertive communication involves perfect timing. Messages sent at the right moment, thanks to automation, become relevant the instant the reader receives them. It's as if you have a magical clock that knows when your offers are needed.
The design of your newsletter also becomes a secret weapon. It's not just the text; it's the visual art, the content format, and the impact a video in the email can make compared to a simple static image. Assertive communication leverages these tools to stand out amidst the crowd.
Types of Christmas Emails with Video
During the holiday season, which spans from October to January, your email marketing strategy should be as varied and festive as an advent calendar.
1. Christmas

Greeting Emails
Greeting emails are your way to showcase the holiday spirit and establish emotional connections with your subscribers. These messages wish recipients a Merry Christmas, a prosperous New Year, and convey a message of gratitude and appreciation. You can enhance these emails with Christmas videos to create a joyful experience.
Moreover, why invest time and resources in creating an exclusive design for an email marketing greeting card when you can take advantage of that fantastic video you've been planning and creating for your brand? Videos not only add dynamism and a personal touch to your greetings but are also an effective way to convey emotions and connect more genuinely with your recipients. Instead of a simple card, a festive video can be the spark that ignites holiday joy in your subscribers and makes them feel even more special.
2.

Christmas Newsletters
Christmas newsletters serve as a means to keep your subscribers informed about the latest updates, product launches, holiday tips, and relevant content. You can include gift guides, Christmas decorating tips, or special recipes. Ensure your design aligns with the holiday aesthetic, featuring festive colors and graphic elements. Additionally, include links to your seasonal offers and promotions.
3.

Promotional Emails
Promotional emails become an even more effective tool in your holiday email marketing strategy when you incorporate the power of videos. These emails are designed to boost your sales and attract shoppers during the busiest shopping season of the year. You can share videos showcasing the latest winter collection, the benefits of your holiday items during the festivities, or the joy of the little ones at home when they receive their gifts.
Incorporating videos into your promotional emails adds a magical touch. You can dynamically display your products, highlight their features, and present special offers, exclusive discounts, and promotions in an engaging manner.
4.

Transactional Emails
Transactional emails are crucial during and after the holiday season, especially when it comes to recovering abandoned carts. If a customer adds products to their cart but doesn't complete the purchase, you can send a friendly email reminding them of the items they left behind and offering incentives to finalize the purchase. Harness the power of urgency, such as mentioning that there are only a few days left until Christmas, to boost the conversion rate.
Adding a Video to Your Holiday Email Effectively
Incorporating videos into your holiday email marketing campaigns can add an emotional and engaging touch that captures your recipients' attention. However, the most effective way to present a video in your email is by embedding it directly into the email's body, allowing it to play automatically when the user opens the email.
An innovative solution to achieve this easily and efficiently is through Viewed technology. This platform is the only tool on the market that allows you to add videos within the email, overcoming compatibility challenges between the content and various inboxes, operating systems, and browsers. Here's how to do it:
Step 1: Register on Viewed
Visit www.viewed.video.
Create a free account on the platform.
Step 2: Upload Your Video
Upload the video you want to include in your holiday email to the Viewed platform.
Step 3: Copy the Embed Code
Once your video is on the platform, Viewed will provide you with a specific embed code for your video.
Step 4: Paste the Code into Your Email Template
Copy and paste the embed code that Viewed has provided into your email marketing template.
Step 5: Send the Campaign
Use your usual email marketing delivery software or platform to send the campaign to your recipients.
With Viewed, you can be confident that your video will be displayed attractively and automatically played, regardless of the email client, operating system, or device your recipients use. This technology allows you to maximize the impact of your videos in your holiday campaigns and ensure that your messages effectively reach your audience.
Take advantage of this innovative solution to add a special and exciting touch to your holiday email marketing campaigns and create an unforgettable experience for your subscribers.