When it comes to the end of season sales, having the right marketing strategy in place can make all the difference in the world. And if you want to win the marketing game, it's all about automation, personalization, and scalability. If you can master these aspects, good things will happen for you and your brand.
The Power of Marketing Automation
In the retail and ecommerce fashion industry, the end of the season can make or break a company's success for that year. You can have an incredible several months of business, but if the end of the season doesn't go well and you're unable to unload inventory at a profit, it can put a huge damper on things.
Marketing automation makes the process of implementing successful and targeted marketing strategies a much more realistic option.
Marketing automation, which basically refers to any technology, application, or software that's capable of streamlining marketing tasks in an automated fashion, is an essential part of the modern marketer's toolbox. According to the latest research:
More than 9 in 10 successful users believe marketing automation is "very important" to their marketing campaigns' overall success.
Roughly 25 percent of survey respondents believe marketing automation is "very successful" in light of their most important business objectives.
54 percent of successful companies say they use marketing automation "extensively."
Marketing automation is estimated to drive 14.5 percent greater sales productivity and lowers marketing overhead by 12.2 percent.
49 percent of B2C companies say they're currently using marketing automation, while 55 percent of B2B companies have adopted the technology.
Why is marketing automation so powerful – specifically when it comes to end of the season sales? Put simply, it makes life a lot easier. It also gives small teams with limited resources much greater reach and dexterity. You no longer need a team of dozens of people to build and execute complex marketing campaigns. It can be done in a much leaner, more agile way.
The second big benefit of marketing automation is its scalability. Automation allows you to increase your marketing reach without having to increase spending in a step-by-step fashion. The bigger you scale, the lower your average cost-per-click (CPC) and cost-per-acquisition (CPA) should be.
Try These 5 Automated End-of-Season Marketing Strategies
Marketing automation can extend across virtually every aspect of your marketing campaigns, including email, landing pages, eCommerce shopping carts, social media, content, PPC advertising, and more. With that being said, here are several helpful tips:
Automate Shopping Cart Abandonment Emails
Shopping cart abandonment is a huge mitigating factor in the world of ecommerce. You're so close yet so far! And if you want to be successful, you have to improve your shopping cart recovery rate.
Overcoming shopping cart abandonment isn't easy, but the more you automate the process, the greater your recovery rate will be. One option is to set up automated email sequences that drip on people after they leave items in their cart.
Most shopping cart abandonment emails are pretty similar. They say something like, "Hey! I noticed that you left the "White Sandals (Size 12)" in your shopping cart. They're still there waiting for you. Use this 10 percent off coupon to get the lowest price of the season!" For the most part, these emails get a positive response and are able to recover a percentage of sales. But what if you could do even more?
Using our platform, you can connect your eCommerce to Viewed and dynamically create personalized videos at scale to retrieve abandoned shopping carts at a much higher rate. These videos can include as much information as you want, from the shopper's name to the item they left in their shopping cart. You can customize the text, voiceover and image shown in the video.
The result is a more unique experience that compels people to complete the purchase.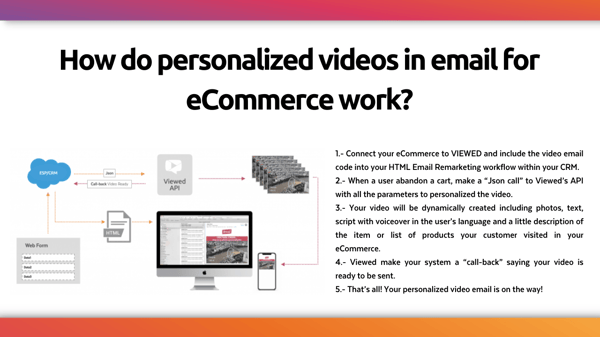 Use Email Autoresponders for Recommendations
You can also use email powerfully to recommend specific products for specific customers. In fact, you can set up entire email autoresponders that streamline this process.
Using the same Viewed software, you can send out personalized recommendation videos based on a customer's previous purchase behaviors. This may include videos of related products. And because you're able to include the customer's name, you can increase engagement and click-throughs.
Automate Social Media Posting
Trying to juggle half a dozen different social media accounts during an end of season sale can feel stressful and chaotic. It's enough to fill your calendar around the clock (especially if you have active social accounts that need to be actively managed for comments, replies, and DMs).
Tools like Buffer and Hootsuite allow you to automate your posting months in advance. You can also manage all of your accounts from a singular dashboard, including direct messages, replies, etc. This prevents the need to jump around between different accounts.
Use AI Content Tools to Automate Content Creation
Not a copywriter or pro content creator? Don't have the time to sit down and create a bunch of original content? Not sure how to write a high-converting email or blog post? Well, don't let that stop you from having a rock-solid content strategy.
Over the past 18 months, a new crop of artificial intelligence (AI) content tools have emerged in the market. These tools make the process of writing coherent and high-converting copy much easier. Simply plug in a few keywords and give the system a basic idea of what you want. In turn, it produces headlines, entire emails, and even entire blog posts.
Automate Ad Retargeting
If you don't already have retargeting and remarketing set up to follow people around the internet after they've visited your eCommerce site, this should be your next step. These campaigns can be set up in Google AdWords, as well as with sites like LinkedIn, Facebook, etc. Once you get them up and running, it's like having an automated drip campaign on everyone who visits your site.
Learn How to Master Personalized Video Emails
Do you want to learn how to send personalized video emails that will help you increase your sales? Request a free demo and we'll walk you through just how simple this process is.
Using our advanced yet intuitive email video software, you can personalize each email you send and maximize engagement at every stage of the customer journey.