Hello Viewed community! This tutorial aims to help you manage and oversee your account on our platform.

First and foremost, we want to acknowledge your interest in creating new and innovative experiences in your email subscribers' inboxes. Now is the time to get started.

In addition to having important features for hosting, configuring, embedding, and monitoring videos in your email marketing campaigns, our platform is equipped with tools that will be useful to you when using it.

To access your account information, simply click on the three horizontal lines in the upper right corner of your screen.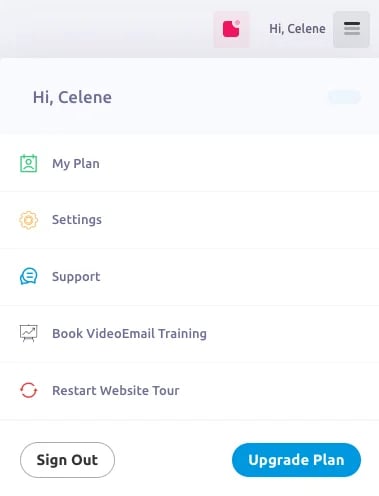 1. My Plan Information

"My Plan" is the most important section of your account as it allows you to access all the information about the plan you have registered with (FREE) or the plan you have subscribed to (Starter, Professional, or Enterprise).


General Information: This includes the name of your plan, the subscription date, and the renewal date.
Invoice: Here you can find and download all the invoices issued for your plan subscription.
Features: This section provides a list of the features and tools included in your plan.

2.
Account Configuration
In the "Configuration" section, you can access all the information related to the setup of your account.


Personal Information: In this section, you can review and edit the information you provided during the registration process on our platform.

Change password: Here, you can change your current password to a new one.

API Key: If you need to use our API, you will find the necessary key here for integration purposes.

Billing email: You can set the email address to which we will send invoices and payment details.

General conditions: In this section, you can review the general terms and conditions of using our platform.

Payment Methods: Here, you can manage and configure the payment methods associated with your account.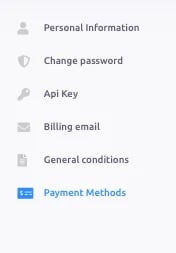 3. S.O.S I Need Help
Every day, we strive to provide you with better technical support to ensure a positive experience while using Viewed.
3.1. Chat and Technical Support Form
That's why we offer a contact form in your account, where you can receive answers and technical support related to the use and functionality of our platform.
Additionally, you can also use our live chat, which is available during the same hours mentioned above.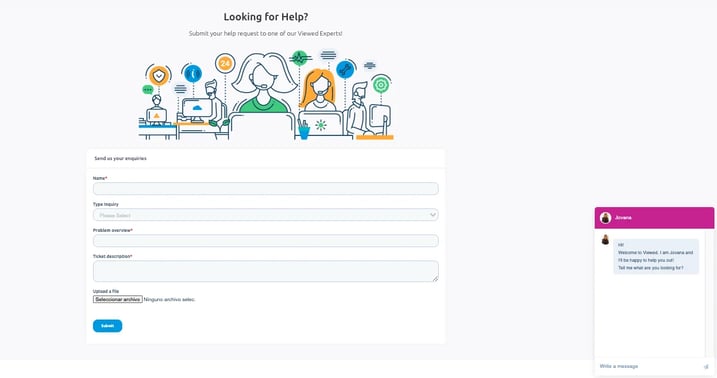 Our team will be delighted to assist you and will make every effort to provide you with a prompt response. We kindly ask for your patience as we process your inquiries. Please note that our headquarters are located in Spain, so our working hours are from 09:00 to 18:00 in Madrid.
3.2. Video Email Training
As part of our support program, we offer you the opportunity to participate in a live training session on video email marketing. This session will help you gain a better understanding of how our platform works and provide you with the best strategies to implement in your business to achieve your goals.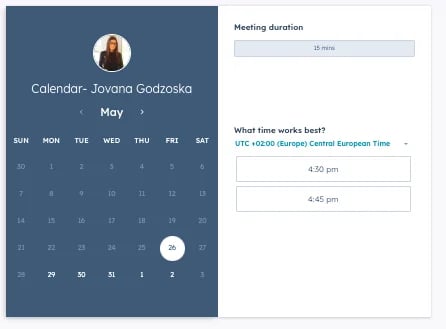 We invite you to schedule a 15-minute video call with our team of experts. Take the leap and make the most of the knowledge and experience of our team to boost your email marketing campaigns.
3.3.
Website Tour
At Viewed, we offer a website tour the first time you access our platform. This tour will help you familiarize yourself with all the features and functionalities we provide. You can choose to skip the tour at any time or reactivate it from the platform's dropdown menu. We're here to make your experience easier and ensure that you feel comfortable using Viewed..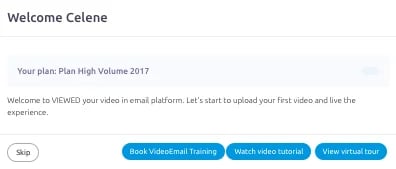 3.4. Tutorials
Discover our Resource Library for Viewed users! Here you'll find a wide collection of tutorials that will guide you in using our platform and provide detailed information on how Viewed works. From tips and tricks to success stories, our library is packed with valuable resources to help you make the most of all the features of Viewed. Explore and enhance your experience with us!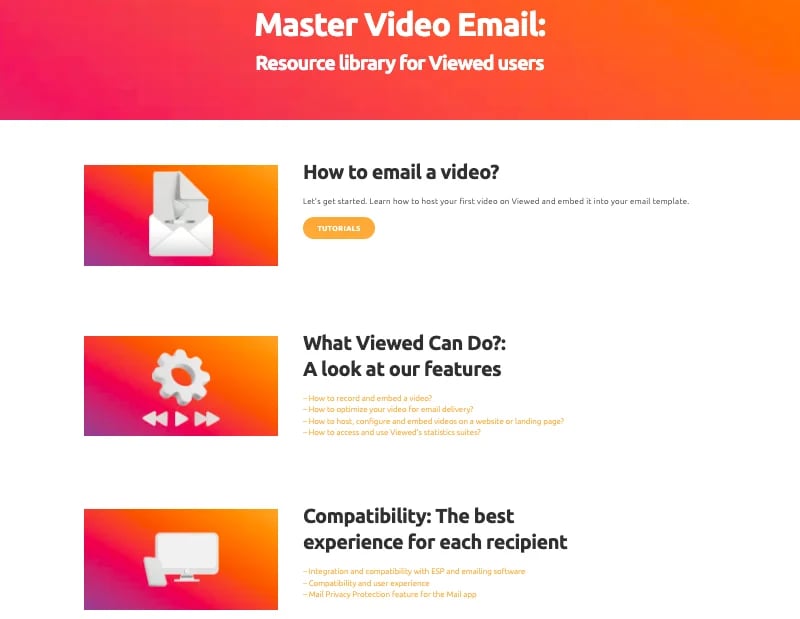 4. How can I manage the available views in my plan?
Hey there! Let's talk about views. Views are the video impressions or visualizations of your videos, depending on the plan you have, you'll have a certain number of views available each month:


Plan Free: Offers unlimited views with watermark.
Plan Starter: Allows up to 5,000 views per month.
Plan Professional: Allows up to 25,000 views per month.
Plan Enterprise: Offers unlimited views without watermark.
Now, you might be wondering, when is a view counted? Well, a view is registered when someone watches your video inside or outside of the email.

Views are recorded when the recipient opens the email and the video plays. If the video loops, it only counts as a single view. Oh, and if your email provider caches the email, openings from the same device are considered as a single view.

Now, emails that are not opened or accounts that block images don't contribute to the view count. And don't worry, views are automatically renewed on the plan's renewal date.

To find out how many views you have available, simply click on the three horizontal lines in the top right corner. There, you'll see the number of views next to your username.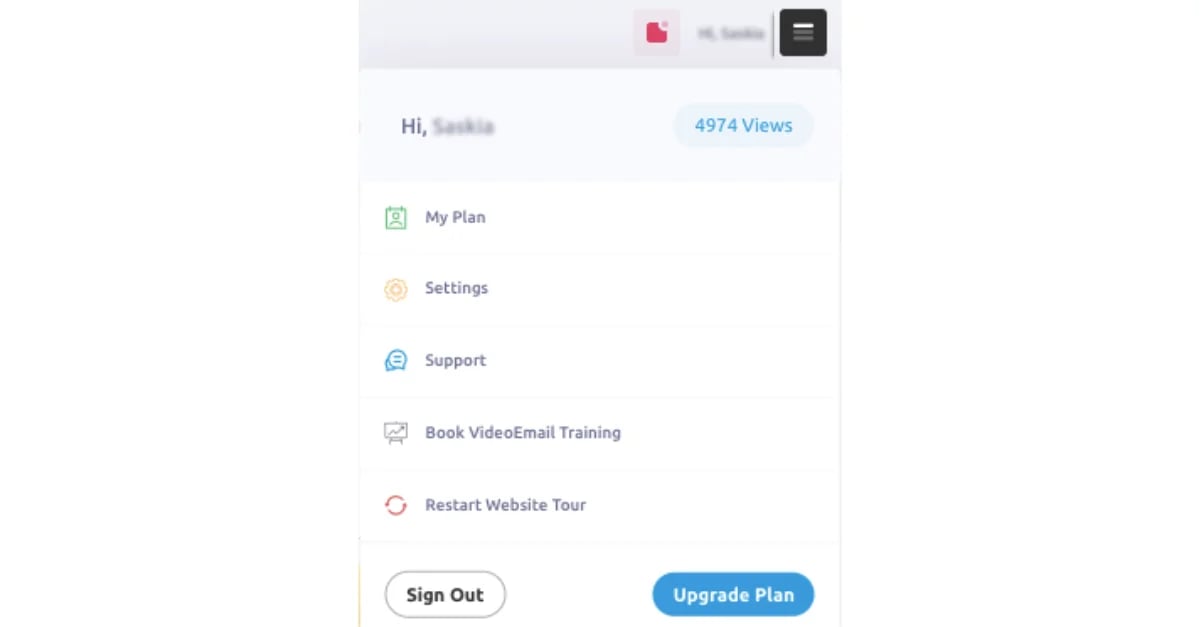 And if you want to know the views of your specific videos, you can use any of our statistics suites. There you go! Now you can manage your views like a pro. Get started and shine with your videos!
5. How can I enhance the features of my plan?
If you want to take your video email marketing campaigns to the next level, you've come to the right place. To enhance the features of your current plan or unlock all the available functions in Viewed, we recommend considering the option of upgrading to one of our plans.

If you need assistance in choosing the perfect plan for your brand, don't hesitate to contact our sales team. They will be delighted to guide you and ensure that you make the best decision to achieve your goals.

Don't miss the opportunity to generate better results with your email marketing campaigns! We're here to support you every step of the way. Contact us and discover the full potential of Viewed!

Thank you for being part of the Viewed community!