Threads is taking the world by storm! Since its launch, this free application has become the most downloaded in the United States, leaving everyone amazed.
In just five days, this new social network has managed to captivate users, becoming the hottest app of the moment and surpassing 100 million users. This is a true success in the world of social media.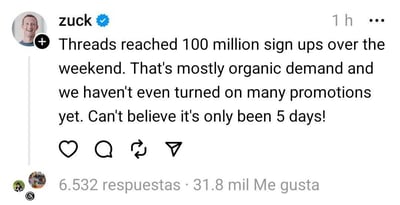 It's important to mention that Threads is currently available in 100 countries worldwide, none of which are in the European Union. According to Christine Pai, spokesperson for Meta, they are working to ensure that Threads complies with all the requirements of the Digital Markets Act before launching it in this continent. So, if you're in Europe, please be patient, you will soon be able to enjoy Threads.
What is Threads?
At first glance, Threads may seem like a copy of Twitter. In fact, many users have already given it different names that refer to this similarity, such as "The Twitter of Instagram," "Mini Twitter," or "Twitstagram." Even Adam Mosseri, the head of Instagram, has compared this text-based application to the version of Twitter from 15 years ago.
Threads is an exciting microblogging social network that focuses on sharing and reading short texts, much like Twitter. However, unlike the latter, Threads is an extension of Instagram, which means that having a profile on both platforms is required to use it. In fact, if we look at the terms, we'll see that certain account options, such as deletion, apply to both platforms and can be managed from Instagram. This unique connection between Threads and Instagram provides a seamless and convenient user experience for social media enthusiasts.
How to Use Threads?
Threads features an incredibly intuitive interface, and for now, its functions are limited or shared with Instagram, ensuring there are no difficulties when starting to use it.
Setup
The setup panel in Threads is user-friendly. While it can be accessed from the app itself, we notice that it is managed through Meta on the Instagram platform. This means that any changes made will affect both platforms.

In this setup panel, you will have the ability to customize the privacy and security settings of your account, as well as your personal information and notification preferences. Additionally, you can adjust details such as the app's language, display of reactions on posts, manage mentions, mute and block users.
Interaction
There are three ways to interact on Threads.
Direct interaction with posts:

You can react to and comment on other users' threads.
Content sharing: You have the ability to share content within the platform and on other social networks, such as Instagram.
Private chats: While it's not possible to have private conversations on Threads, you can do so through the Instagram chat feature by accessing it from each user's profile on Threads.
Search Function
The search function in Threads is straightforward to use, although it has certain limitations. Currently, it only allows searching for user accounts and does not offer the ability to search for content or follow topics, unlike its main competitor, Twitter.


News Feed
Currently, the social network has a single news feed where content from other users is displayed. This means that you can see a combination of posts from people you follow and others that, according to the platform's algorithm, may be interesting to you, similar to TikTok's "For You" section. However, the Threads team has announced that they are working on implementing a second feed that will exclusively show posts from people you follow.
What are the key differences with Twitter?
While some followers of the popular blue bird social network have criticized Threads for lack of innovation and being dull, this platform offers certain advantages that could threaten the future of Twitter, especially after all the changes it has undergone since Elon Musk acquired it.

Let's start by highlighting the most prominent differences: the amazing integration with Instagram, which gives Threads three unique competitive advantages.
Joining Threads is as easy as breathing. You only need to use an Instagram account, and this incredible platform will automatically import all your data, including account verification.
Organic growth is accelerated, as it also imports followers from one account to another. However, it is essential to dedicate time to the platform for the algorithm to start working and position your threads.
You can directly share Threads content in Instagram Stories or the Instagram feed, which brings Threads closer to users who solely use Instagram, benefiting both the platform itself and the user.
These advantages set Threads apart from Twitter and provide a compelling alternative for users looking for a seamless integration with Instagram and an enhanced social networking experience.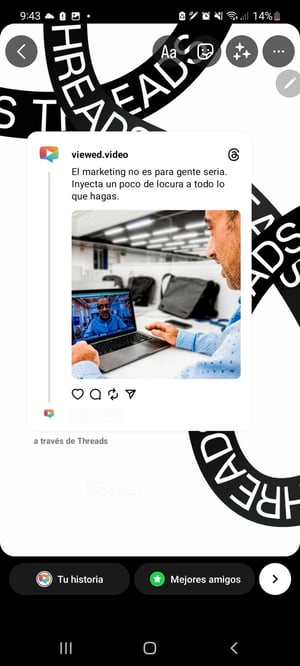 Threads, this incredible platform, also stands out and differentiates itself from Twitter by allowing you to share texts of up to 500 characters, giving you the opportunity to express yourself more extensively. Additionally, it offers the option to accompany your messages with videos of up to 5 minutes, adding dynamism and interest to your posts. Without a doubt, Threads provides a unique and exciting experience in the world of social media!

Lastly, one of the most notable differences so far is that Threads on Instagram promotes a friendly and respectful environment, where users can engage in discussions and express their opinions with people who interest them and whom they respect. There's no room for arguments or insults here. Friendly conversation is encouraged, and we hope it continues to be so.
Brands on Threads
As a microblogging platform, Threads offers brands the opportunity to convey short and direct messages. Several companies have already started creating accounts on Threads to organically share content, despite the lack of advertising on the platform.

However, the absence of hashtags and keyword-based search functions on the platform may limit its appeal to marketing professionals. These features, which are present on Twitter, allow brands to stay informed about trends and conversational topics. Nevertheless, we should not dismiss the possibility of Threads implementing similar functions in future updates, aiming to enhance the advertiser experience and provide more opportunities to reach their target audience.

Additionally, Meta has plans to integrate Instagram's branded content tools into Threads. This will enable marketers to collaborate with influencers and other celebrities to effectively promote their products or services, even in the absence of advertising. This partnership between Threads and Instagram will open new opportunities for brands to reach a wider audience and leverage the popularity of both platforms.

In summary, while Threads still has some limitations in terms of advertiser functionalities, the platform's potential is undeniable. With its focus on concise and direct messaging, along with its integration with Instagram, Threads offers an exciting new way for brands to connect with their audience and share relevant content. As the platform evolves and updates, we can expect to see more opportunities and tools for brands to make the most of their presence on Threads.