Unprecedented results in digital marketing with millions of smart, personalized and unique videos
The latest trend in online marketing, delivers intelligent videos that are personalized automatically and in real time based on user's browsing.
These videos have shown unprecedented performance in retargeting campaigns, embedded in email, display campaigns and social networks
We all like to be called by our name, to have coffee made to our liking in the usual coffee shop, short or long coffee, warm or hot milk, glass or cup, sugar or sweetener. The ideal trip, urban, mountain or beach, with children or as a couple. That we are personally attended to when buying some running shoes depending on our sole and style of running. Or that we can configure a car with all the extras we've always wanted without paying for what we don't want.
Segmentation is no longer enough
Traditionally, marketing has tried to classify individuals into groups, to make offers for blocks of users that could meet a series of requirements and try to satisfy their needs. The millennials and 'generation Z' are examples of group classifications used by marketing departments to create communication strategies and sales. These techniques require a lot of work and time, and are not always effective as the needs of the users belonging to these groups change constantly and the online information they access is as varied as it is confusing.
In recent years, online advertising has been based on the number of hits. It was believed that the higher the number of hits, the higher the possibility of conversions or sales of products or services. But this has caused saturation and information overload for users, so these hits lose value, which translates into increasingly lower conversion rates in an environment where it's increasingly more expensive to buy advertising space.
It's never been easier to deliver a message, photo or video to millions of users anywhere in the world. Precisely for this reason, there are millions of people creating messages and launching them into the network every day, hour and minute. It has become extremely difficult to get a user or potential buyer to ever see our message. If they finally do see the message, the chances that it will be totally irrelevant, alongside the hundreds of hits that will be received on the same day, are so great that conversion rates greater than 1% are almost utopian.
The product sells, the experience creates loyalty
The best scenario would be to generate intelligent content, in real time, that analyzes the needs of our potential customers, based on their browsing history and data collected throughout the "customer journey" to offer them a totally personalized and innovative experience. Ana offers this each morning, the waitress at the coffee shop in your neighborhood who starts to prepare a decaffeinated coffee, from a cafetiere, in a wide glass, with warm milk and sweetener, just as William walks through the door. William feels happy, because Ana has not sold him a coffee, she has sold an experience, a sense of comfort, personalized and unique, that makes him feel special and repeats every morning in Ana's coffee shop. That experience, and not the coffee is what makes William a recurring client. This is the peak of all successful businesses.
Smart, personalized and unique videos
In the search to offer customers and users a unique experience that makes them return, a Spanish company is at the forefront of research and technological development - Viewed.
Viewed is able to create millions of personalized videos in real time based on data obtained dynamically from the users' browsing, a CRM, a DMP or any system that integrates with an API. In addition, Viewed is a pioneer in embedding videos in email marketing, so it can embed and play each personalized video in each user's email, thus generating a unique experience for the user .
The second, Delidatax, offers services for processing large amounts of data, providing a new solution that no longer deals in audiences but of "individuals" with its data enriched CDP. This way you get the interests of each individual in real time on any device, and show the personalized video created by Viewed in the appropriate channel and at the right time to get the best conversions. Delidatax has the capacity to show these videos in external databases, display campaigns and social networks in 143 countries and 450 million users per month.
Exceptionally unique results
During July and August of 2018, Viewed carried out several pilot tests with leading travel companies, including Melià Hotels International. The results have been way above any existing online marketing technology, and this is without question because of Viewed's personalisation technology.
To carry out the pilots, integrations were implemented with the advertiser's websites or CRMs, capturing user browsing information, and personalizing the videos with destination data, hotel name, dates of reservation and prices. In addition, a personalized voiceover was included that speaks both generic text and specific text totally in accordance with the proposal made in the video. The videos were generated from a series of photos of each hotel that can also be replaced dynamically. Here is an example:
Once the integration and the different template videos were made, the system was put into production and reached peaks of more than 1,500 personalized videos per hour. These videos were automatically and uniquely embedded in HTML templates for email marketing campaigns so that each user received and played "their video" in "their email" a few hours after their query on the advertiser's website.
KEY METRICS
The results can be seen in the infographic below. The system blasts all existing email metrics out of the water and enhances the quality of web traffic. A total of 97,638 emails were sent, of which 55% opened the message. Of the 53,701 users who opened the message, 49.7% clicked on the video and were redirected to the advertiser's website to complete the purchase process.
The quality of the traffic also improved exceptionally. The bounce rate went from an average of 42.6% to 20.9% and in some campaigns it was as low as 3.44%. The page views per session went from 2.1 to 4.6. The time of the visit went up to 4 minutes and 52 seconds, which represents an increase of 95%. And the conversions rose to 3.18% for each session initiated with this technology.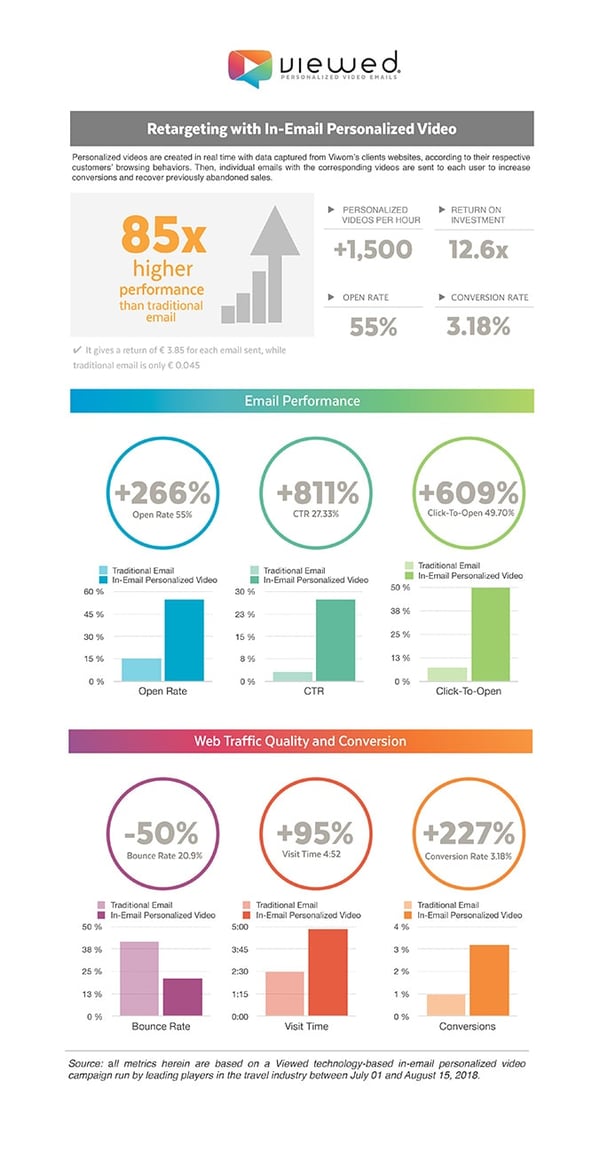 In summary, the performance of the campaigns was higher than 3.50 EUR x Email Sent, which means sales from customers who were part of the test was around 350,000 EUR for only 100,000 emails sent with personalized video.
Compared with traditional emails, with static and generic offers, Viewed's technology performed 85 times better, results like these have not been seen in digital marketing until now.
The future looks good also, because thanks to an agreement between Viewed and Delidatax, a Customer Data Platform (CDP) this innovative and effective technology can now be extended to display campaigns and social networks. Showing personalized video to each user at the right time and through the right channel, Delidatax's data intelligence can detect for which users it will be more profitable to generate a personalized video. This will increase the efficiency and profitability of the campaigns by a considerable margin.
This last point opens a new window of opportunities, because if we think about retargeting for email, there are limitations to the number of videos that we can create, not technological but legal, as we can only impact those users who have given us their permission to receive communications by email. However, in display and social networks, users only need to accept the privacy policy, opening up the possibility of creating millions of personalized videos per month that will exponentially increase the sales of any company.
To conclude, a good digital marketing strategy will include actions of capture, conversion and retention of users, and personalized video, delivered at the right time and in the right channel, shows effectiveness almost as high as the personalized coffee that Ana offers William every morning.
The technology of Viewed and Delidatax is validated and certified by Ogilvy.