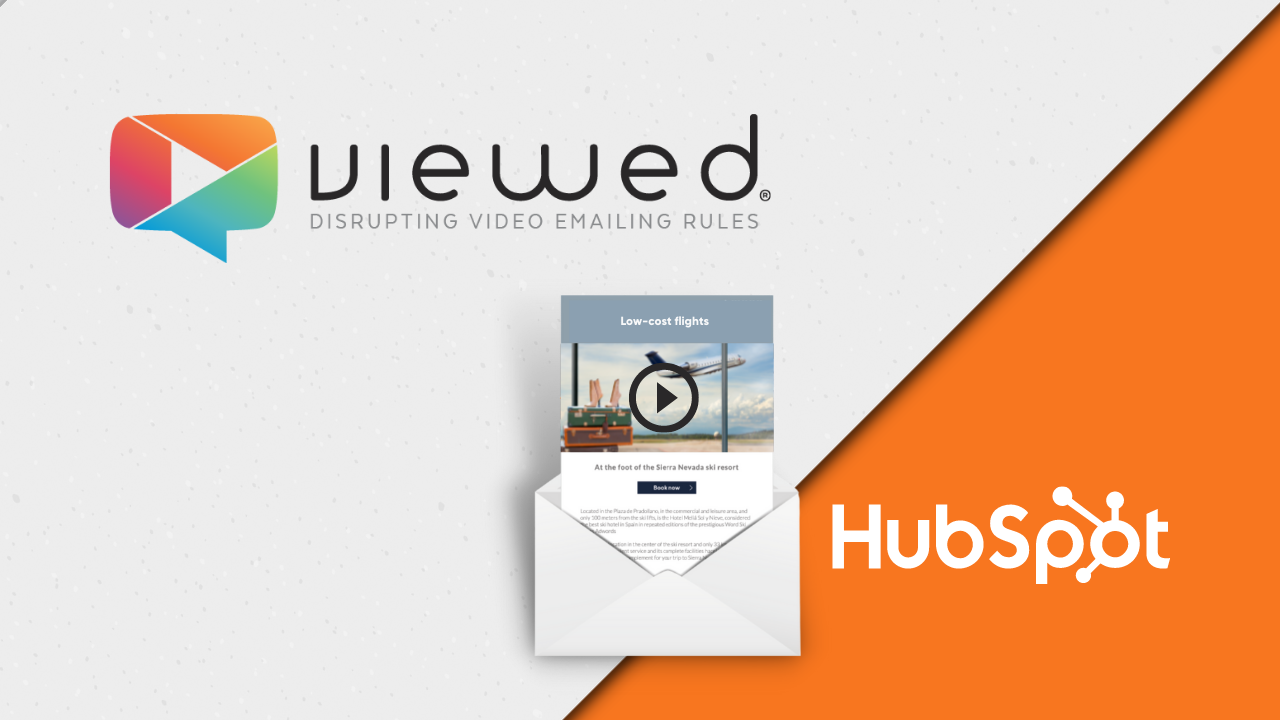 Enjoy up to 10,000 video views per month with the free plan.
You also need to download our module from Hubspot marketplace. You can find it in the email section.
1. Create your Viewed Account
If you don't have an account, create one here. By default, you will be logged in to the FREE plan, that includes 10.000 views per month with watermark. You can upgrade your plan or purchase extra video impressions as needed. Viewed delivers millions of videos via email every day. It has solid servers and is a partner of Amazon and Google Cloud in order to deliver your video emails, regardless of the volume or concurrent users.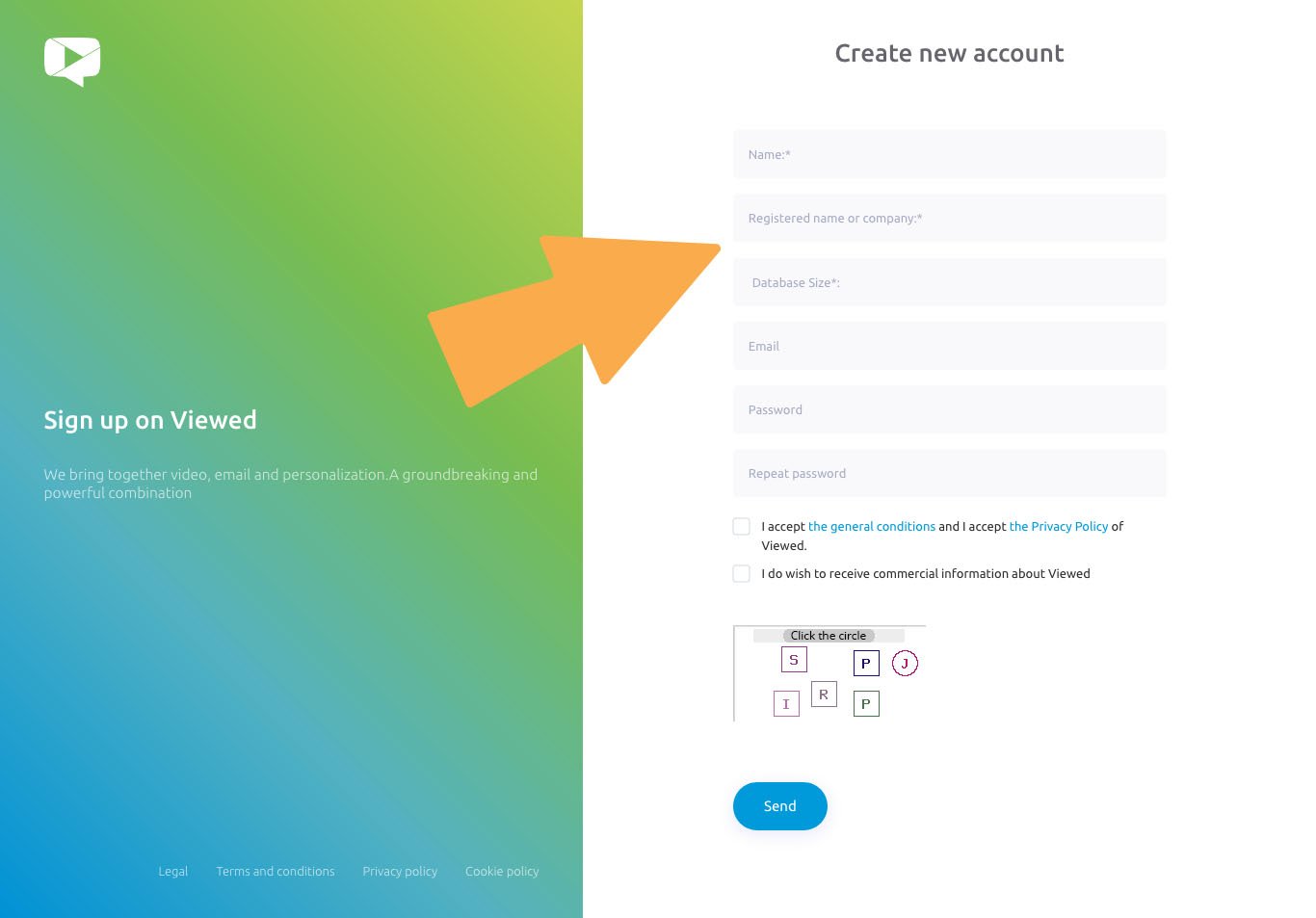 2. Upload your Video File
The Viewed platform is compatible with all video formats such as mp4, avi, mov and flv. Press the blue button "Upload Video" on the right side of your screen:
Then fill the form:
Video name: It's a name to identify the video in your list.
Video file: you have to options:
- Select a video from your computer. You can use the drag & drop system or click to search and upload.
- Or introduce a youtube or Vimeo video. It is no needed to select file in the previous field.
Video width: it's the video size in pixels in your html template.
Click on the green button "Upload Video"
3. Coffee Time!
It´s time to have a cup of coffee. It will take just a few minutes. Relax, our System is in charge.
Viewed will automatically create all the necessary video formats to be compatible with every Operating System, device or navigator.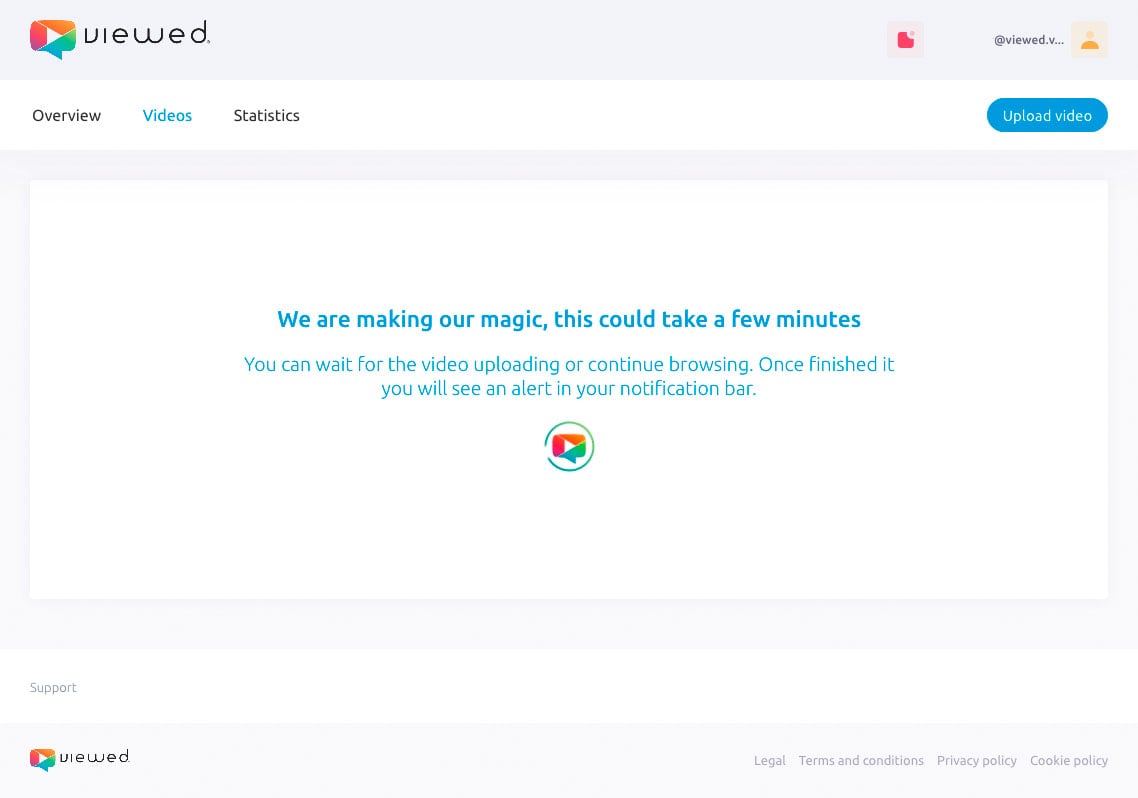 When the process finishes you will receive an alert in your notification bar.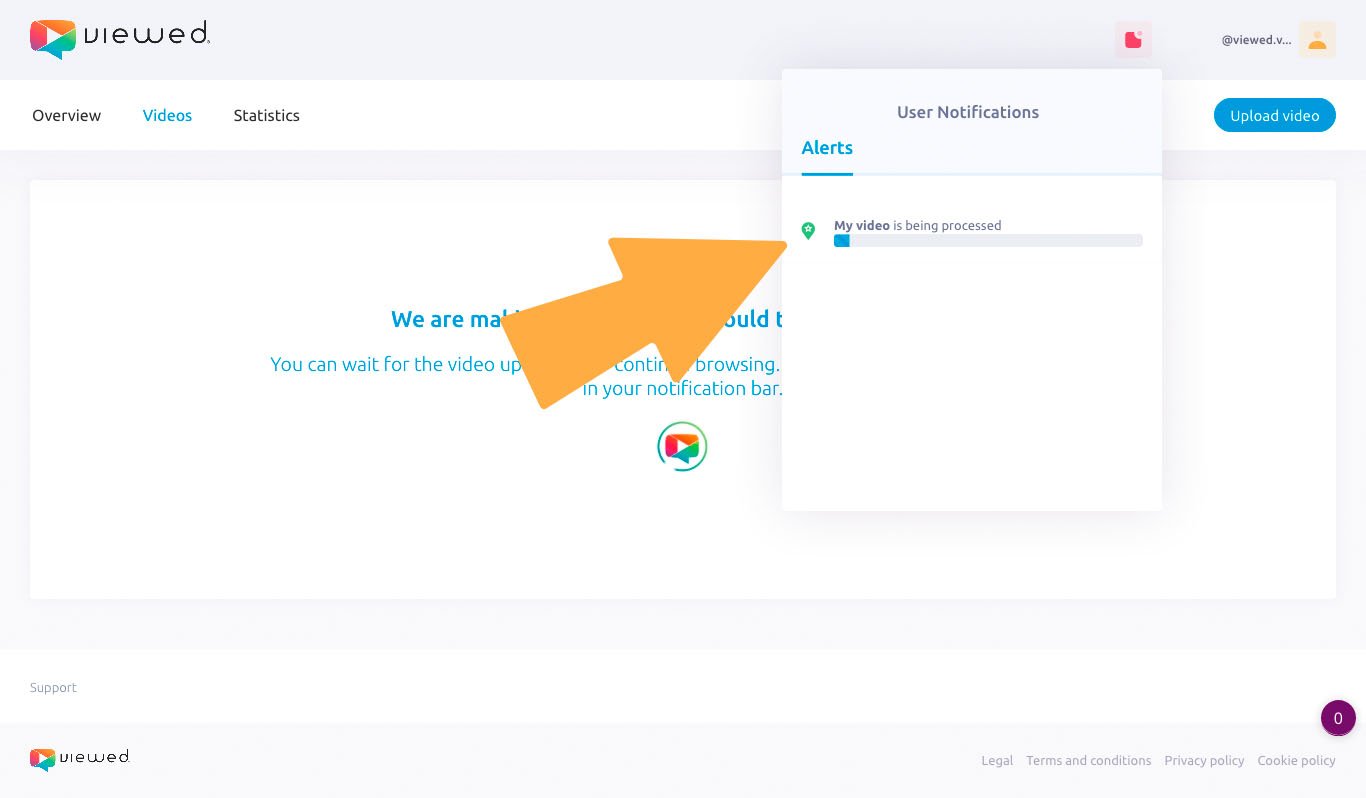 4. Get your video ID
Go to Videos section: First, click on "Copy Video ID". Second, select "Copy to Hubspot" option.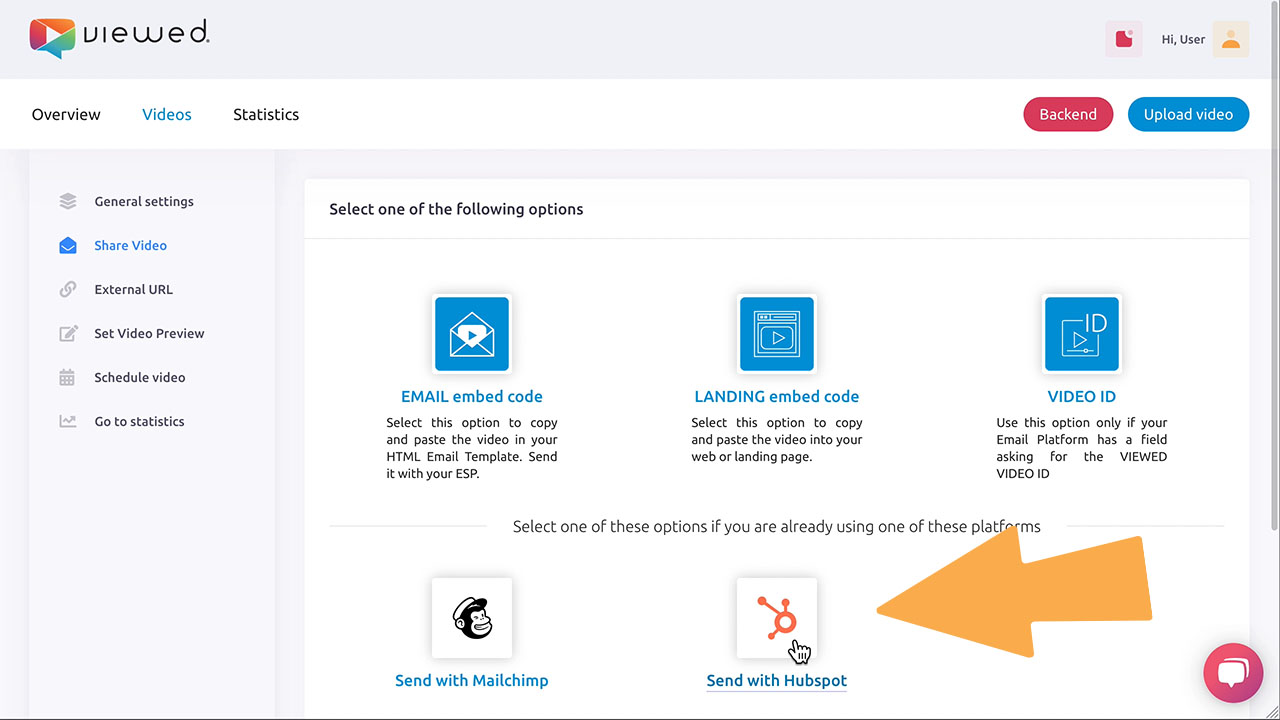 5. Time to go to Hubspot.
Now it is time to go to Hubspot to start your campaign. Just log in your Hubspot account.
6. Create your campaign.
Go to the EMAIL section to create the campaign. Go to MARKETING > EMAIL and click on CREATE EMAIL to create a new campaign and select one item.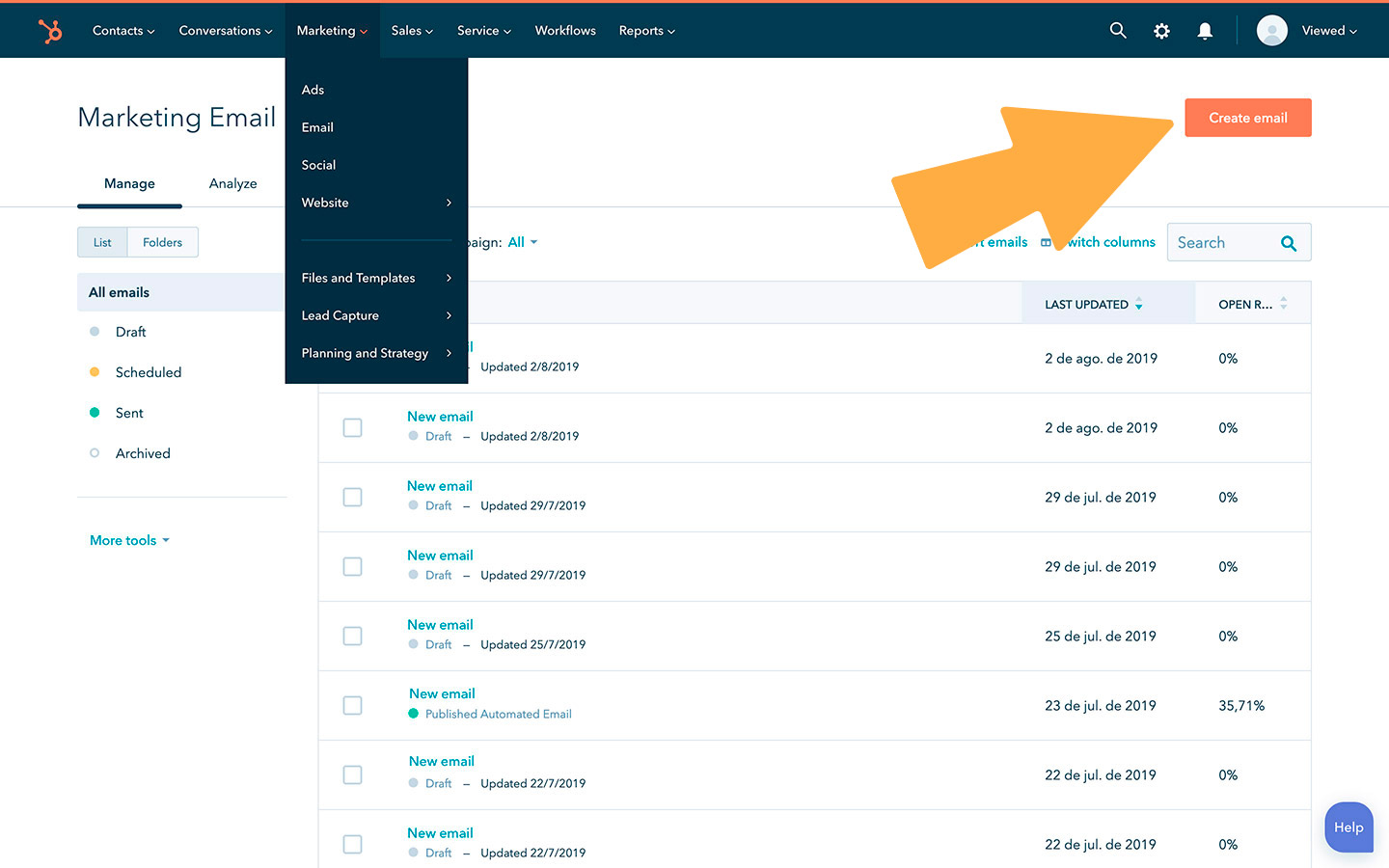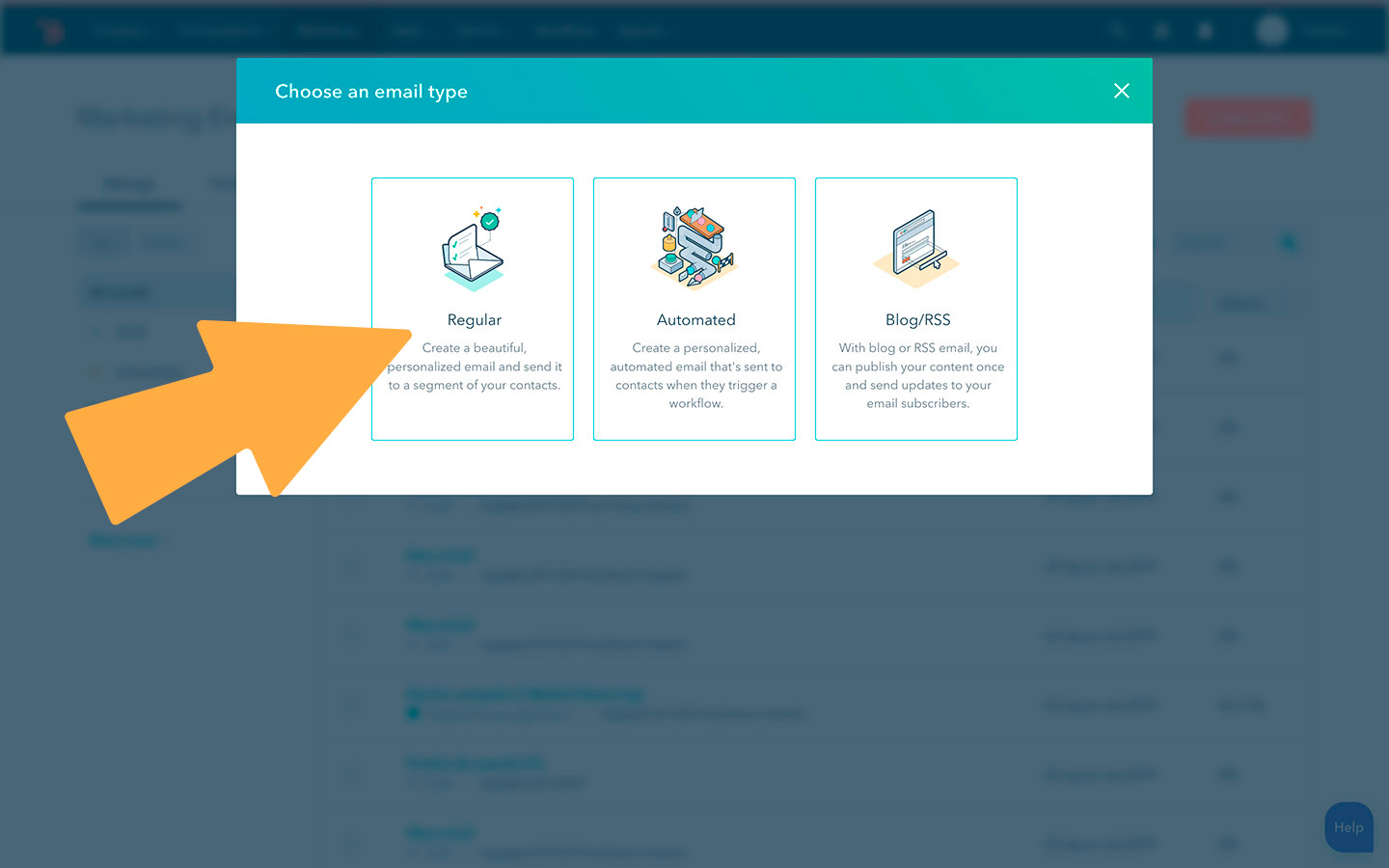 7. Select your template.
Select your template. Remember, the only requirement is that the template has to allow drag & drop modules.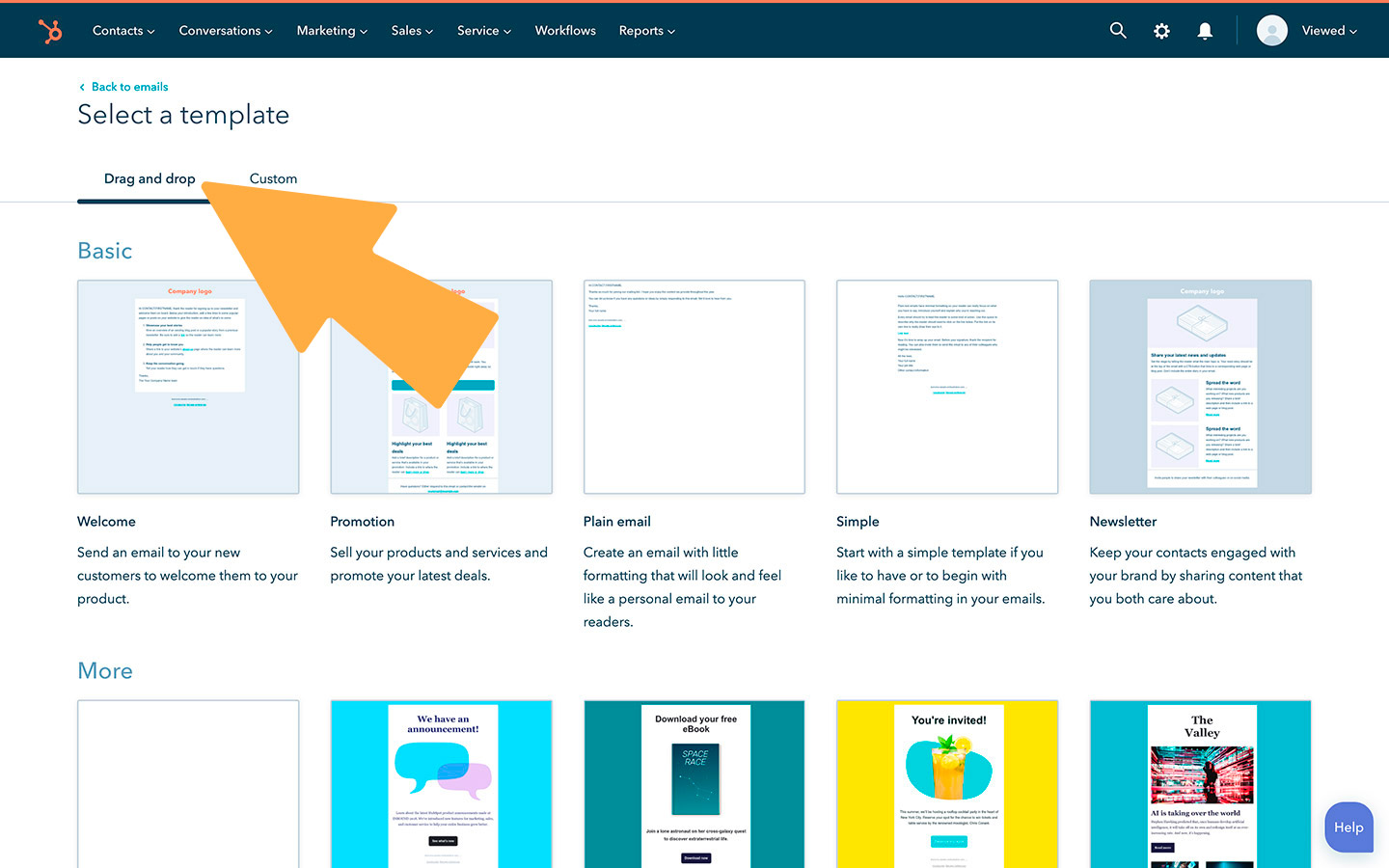 8. Add Viewed module.
Click on the "+ MORE" button to see the modules downloaded from the Marketplace (If you haven't download it yet it's time to do it now). Drag and drop the Viewed module to the location you want the video in the email.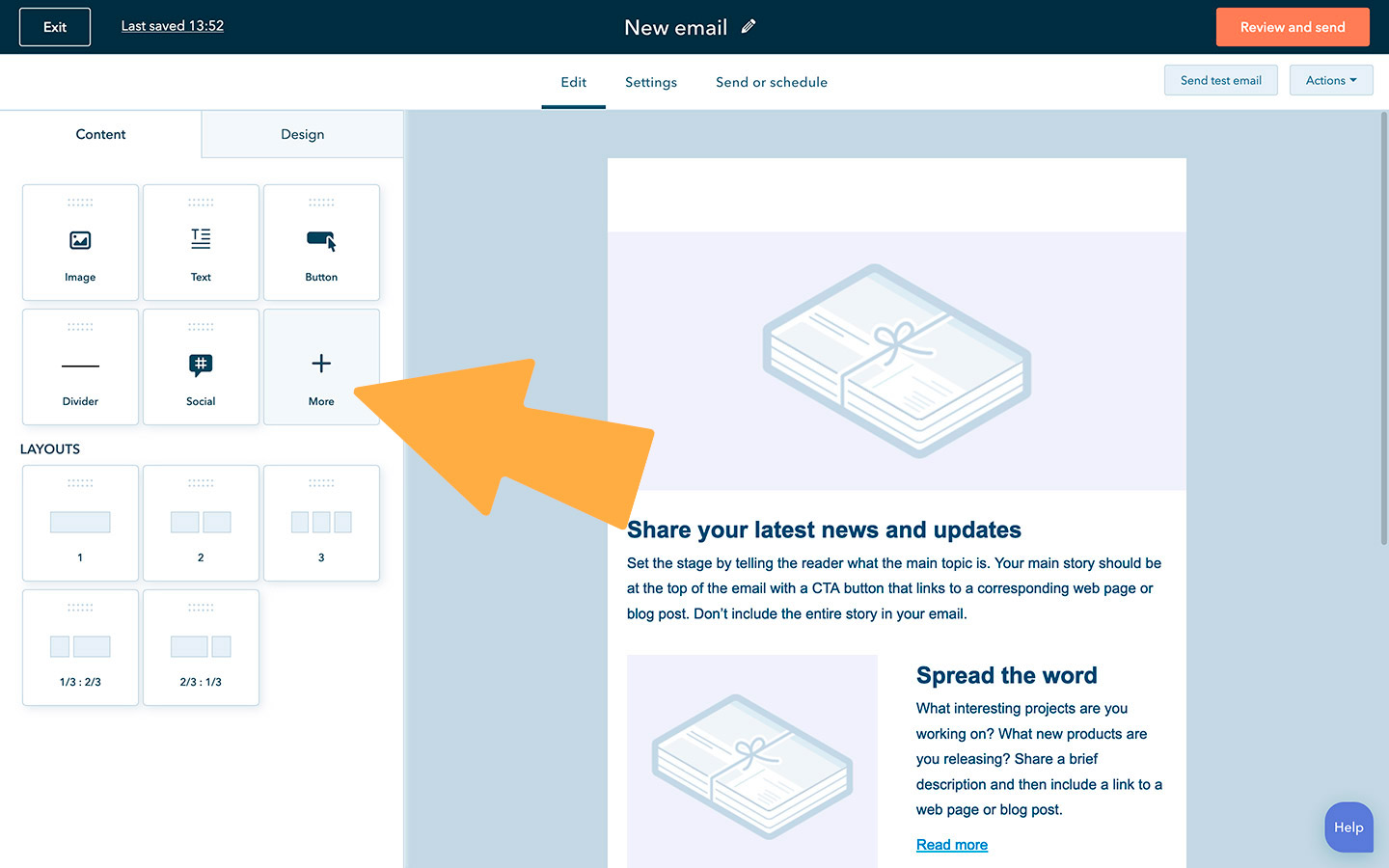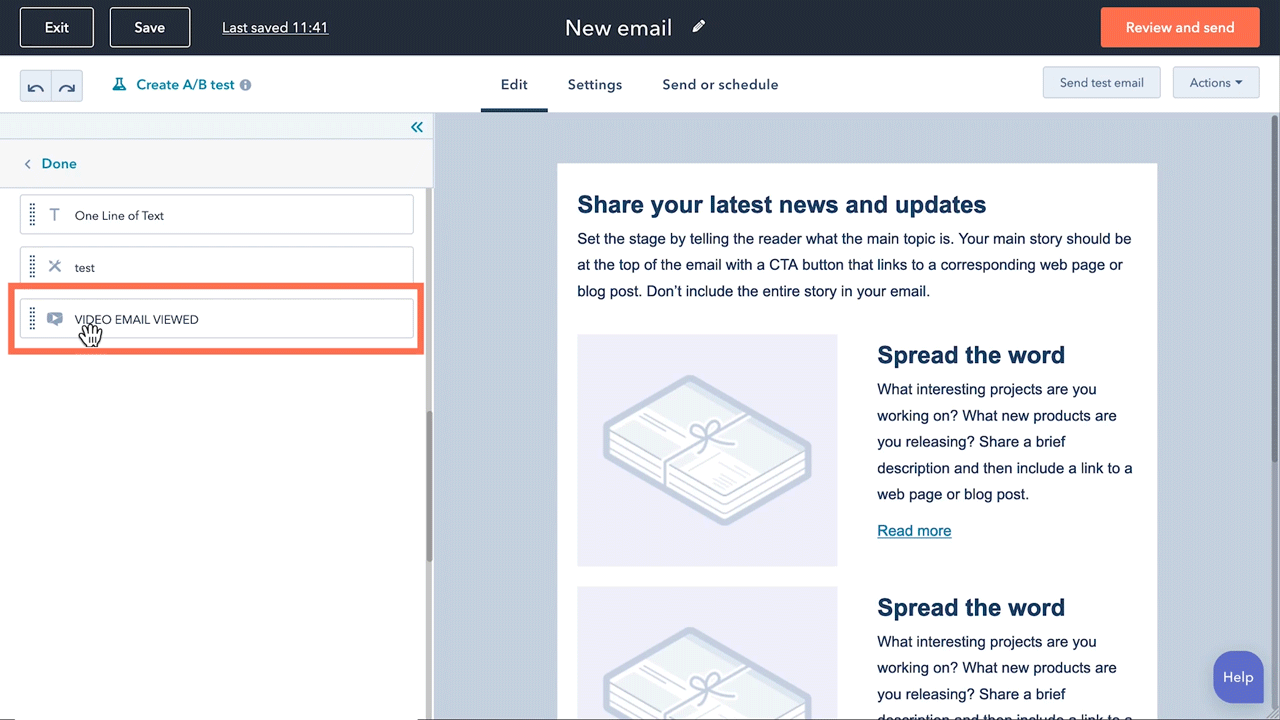 9. Add the Viewed video ID
Paste the video identifier and you will see your video in your template.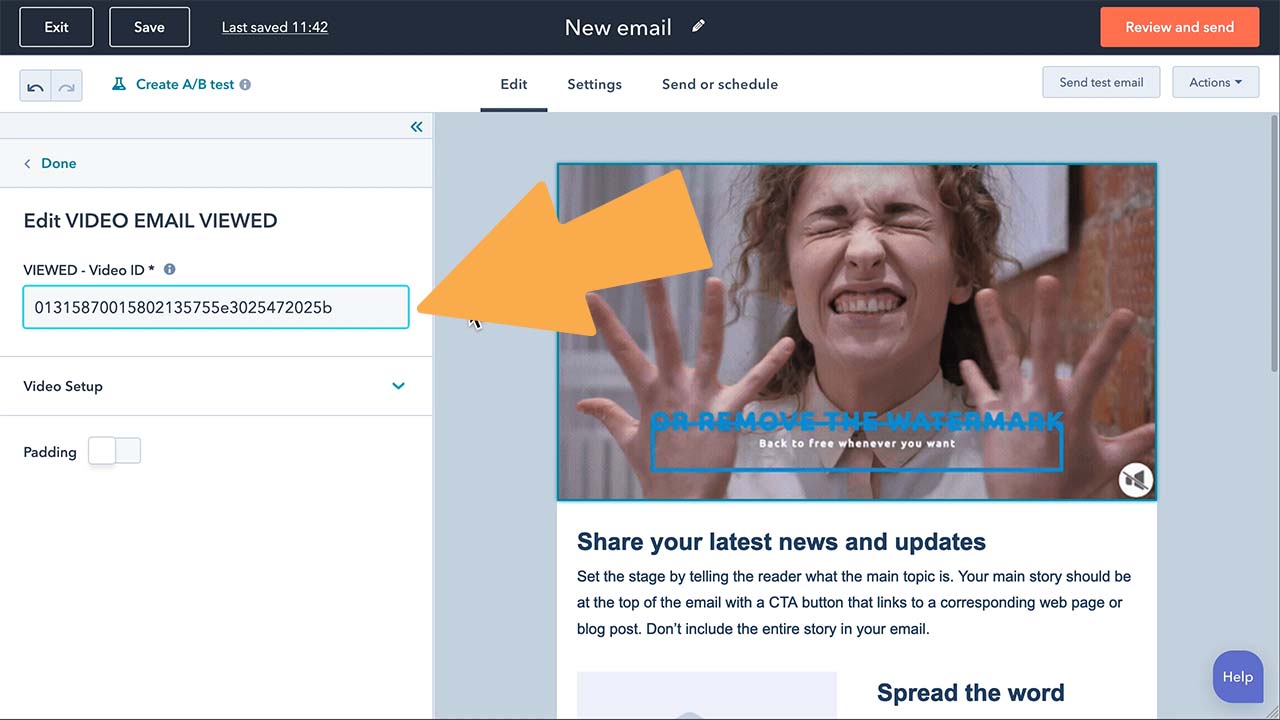 10. Video setup
Set the width and height of the video in your template. This should be the same size as the file when you created the campaign. You can also configure the alignment of your video.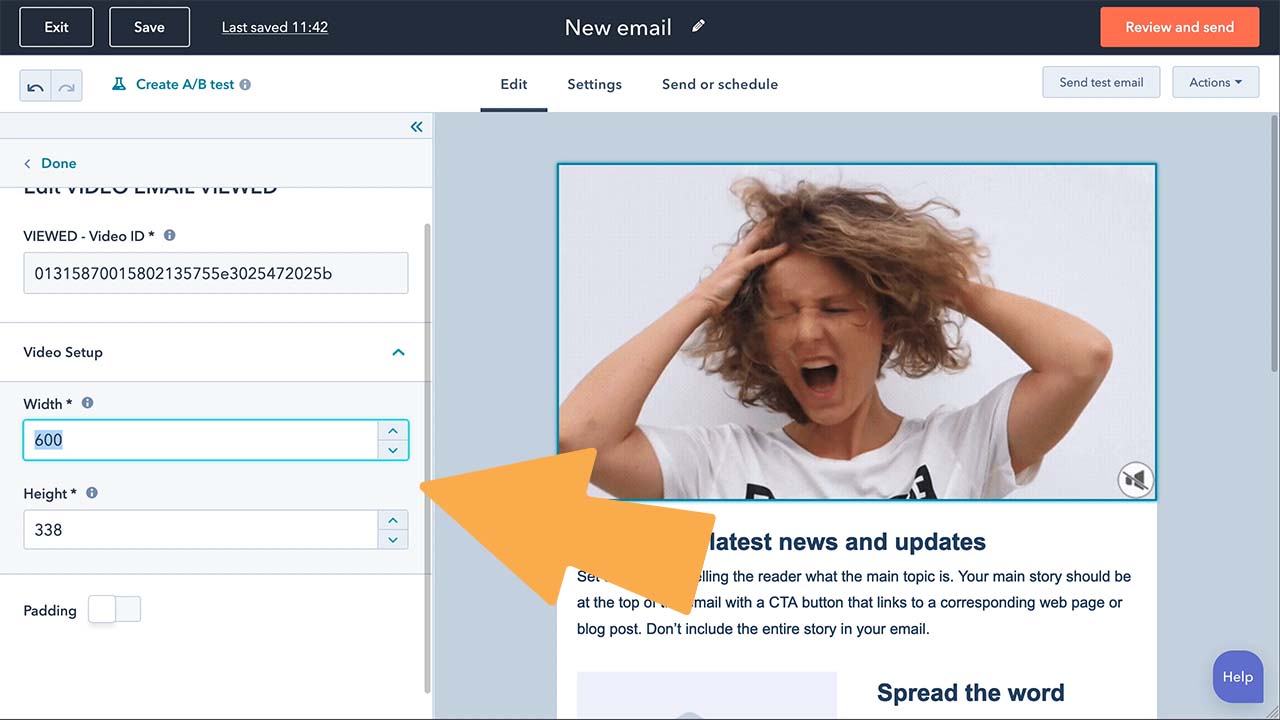 12. Ready!
Done! your campaign is now ready to send!
Compatibility and some video email restrictions
Despite VIEWED provides with the best video email technology nowadays, some email clients are not fully compatible with video files. In these cases, the recipients of your email will receive a video-GIF or a fallback click-to-play image. VIEWED automatically creates up to three different video-GIF files intended to mobile, tablet or desktop users than are not able to playback the video within the email. Then users will be able to make click on the video-GIF to open and watch the video with sound in a landing page. Even so, approximately 15% of contacts will also not be able to see a video-GIF. These contacts will automatically receive a click-to-play fallback image. You can visit www.viewed.video/technology/ and download the "compatibility table" to learn more about the format that every contact will receive.
UPDATE MODULE
In case you already have the module and need to update it go to:
MARKETPLACE > ASSET MARKETPLACE > PURCHASED

Hover on the viewed module and click on the INSTALL UPDATE button. Your module is now upgraded to the latest version. Remember that it will not be modified in the old emails, you will have to modify it manually.